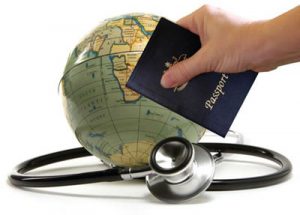 New Delhi: Eman Ahmed, the Egyptian patient who flew in to India for massive weight-loss treatment at Saifee hospital, is a testimonial for the low cost medical treatment available in India
Attracted by India's world-class healthcare facilities and affordable price, more and more patients from abroad are making a beeline to avail of medical facilities which are either exorbitant or long queues. The country now seeks to scale up medical tourism by liberalising its e-visa system for most of the countries except Pakistan.
Over the past two years, medical and wellness tourism in the country has jumped by nearly 25 per cent.
To tap the interest among foreigners in availing of medical facilities, the Centre is planning to launch a wellness and medical tourism policy on International Yoga Day on June 21 to tap the huge potential of the sector, according to Tourism Minister Mahesh Sharma. Earlier this month, he announced that his ministry was working in the direction of making the country into a hub of wellness and medical tourism.
As the number of Foreign Tourist Arrivals (FTAs) in India on Medical Visa in the past three years highlights medical visas are seeing an incremental jump. In 2014, 75,688 medical visas were issued, rising to 1,34,344 in 2015 and yet again to 2,01,333 in 2016.
One in three foreign patients in India — 165,000 patients out of a total 460,000 — is from Bangladesh, according to reports.
To attract more patients, India has now extended visa facilities for the diagnostic tests resulting in Bangladesh toppling the US as the highest number of foreign tourists, mostly due to medical tourism.
Bangladesh with 58,360 was followed by 29,492 visitors from Afghanistan, Iraq — 9,139, Nigeria –5,994 and Kenya –3,240 in 2015-16, according to reports.
0 comment(s) on India to roll out welcome mat for medical tourists