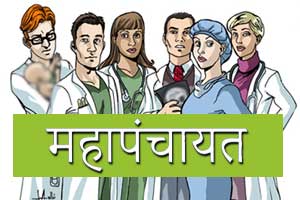 New Delhi: The Indian Medical Association (IMA) which has been on a nationwide march from February 25 to deprecate the current form of the National Medical Commission Bill will hold a 'Mahapanchayat' on March 25. The Mahapanchayat will be held at the Indira Gandhi Stadium, New Delhi.
The IMA has strongly opposed the draft Bill that seeks to replace the Medical Council of India with a new body, claiming it will cripple the medical profession.
"The bill, which has the potential to adversely alter the course of medical education and healthcare delivery in India, will also make irrevocable damage if passed in its current forms," IMA's general secretary Dr R N Tandon said.
Cutting across party lines, the members of Parliament have also voiced their concern and opposition towards the bill, which has now been referred to the standing committee.
"Vehemently opposing the commission, IMA has already started a march across India and will converge before the Doctors Mahapanchayat in New Delhi. Over 20,000 medical fraternities are expected at the venue," IMA's National President, Dr Ravi Wankhedkar said.
IMA, which is a self regulating body run by doctors, has over 1,725 local branches across the country and has held simultaneous yatras across the country to generate awareness among masses.
The IMA is also organising a cycle rally tomorrow across India with an aim to sensitise the masses about the issue.
According to the bill, the government can fix the fee for only 40 percent of the seats in private medical colleges.
"As the remaining 60 percent of seats does not come under the guidelines, the colleges shall be charging a higher fee. This clause is paradoxical in nature and makes it pro-rich reservation system," said Tandon.
"If functional, this means that the present ratio of 15 percent allotted to private and deemed universities for charging high fees stands augmented to the entire 60 per cent which itself is a real travesty of its kind," he said.
The IMA is also opposing the clause in the bill which calls for allowing practitioners of traditional medicine system to pursue modern medicine.
"If the bill is incorporated with such liberal provisions, it will only end up with half-baked and ill-equipped medical practices which will put the health of Indian population at stake," said Dr Vinay Aggarwal, former president of IMA.
2 comment(s) on Mahapanchayat against NMC bill on 25th March: IMA