Indian Nursing Council invites states to submit names of nurses for Florence Nightingale Award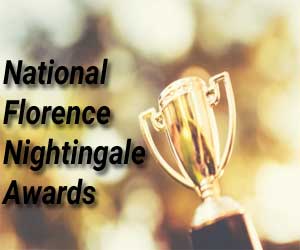 New Delhi: The President of Indian Nursing Council (INC) has written to the Secretaries of Ministry of Health and Family Welfare of all States and Union Territories to nominate names of the nursing professionals for Florence J Nightingale award 2019. The award will be given on the occasion of the birth anniversary of Florence J Nightingale on 12
th
 May 2019.
The award is given to outstanding Nursing personnel employed in Central, State/UTs, Private, Missionary and Vo1untai'y Organizations. The award consists of Cash Award of Rs. 50,000/-, a certificate and a Medal. Apart from the Nursing Personnel working in the State, Central, Autonomous institutions, the Nursing Personnel working in Private, Missionary and Voluntary Organisations are also eligible for the National Florence Nightingale Nurses Award and their application may also be forwarded after considering it in State Level Selection Committee in accordance with the laid down procedure. subject to their- fulfilling the requirements.
The letter stated the connection of the said award, the work relating to organizing the National Florence Nightingale awards 2019 has now been transferred by Ministry of Health & Family Welfare (Nursing Section) to Indian Nursing Council and as such all correspondence in this regard is to be addressed now to Indian Nursing Council. Further, the nomination for the Award will be scrutinized by a Committee headed by Hon'bIe Justice Shri Gopala Gowda, former Justice of Supreme Court of India.
Selection criteria, applications form, instructions for preparing the resume of the nominee, composition of the State Level Selection Committee and procedure for selection of nominees for the award.
The Indian Nursing Council has directed  the states to provide at least a panel of three names for each category, i.e Auxiliary Nurses & Midwife, Registered Nurses and Midwife & Registered Lady Health Visitors from Your State.
In the course of choosing and submitting names for the nominations the states have been directed to keep the following aspects in view.


Wide publicity may be given in the State to all the concerned Stakeholders by issuing necessary circulars and up-loading the enclosed documents on the official website of the State


It may please be ensured that applications for the nominations are received from Private and Missionary institution also apart from government


Representatives of the Trained Nurses Association of India (TNAI) at the State Level or Associations should be included in the Selection


It should be ensured that the panel of names should include nominations in each of the three categories i.e. Nurses, Auxiliary Nurse Midwives and Lady Health Visitors.


It should be ensured that only such candidates are nominated who fulfil the criteria and proven evidence of outstanding work in their field and all the nominations are to be placed before the State Selection Committee


https://mohfw.gov.in/
https://mohfw.gov.in/newshighlights/national-florence-nightangle-award-2019