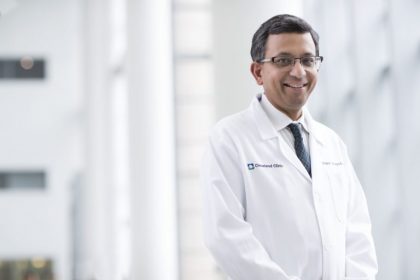 New Delhi: Bringing pride to Indian origin medical practitioners working in various parts of the globe, Cardiologist Dr Samir Kapadia has been named the head of the Department of Cardiology at the prestigious Cleveland Clinics
In this capacity, Dr. Kapadia will lead the team of cardiologists for the Sydell and Arnold Miller Family Heart & Vascular Institute. Cleveland Clinic has retained its position as the nation's No. 1 hospital for cardiology and heart surgery for 24 consecutive years, according to U.S. News & World Report's annual hospital rankings. Since 1995, no hospital has ranked higher in heart care than Cleveland Clinic.
A native of India, Dr Samir Kapadia received his medical degree with honours from Smt. N.H.L.M. Medical College in Gujarat, India, scoring sixth highest out of 30,000 pre-med students on the state boards. He completed his internship and residency in internal medicine at Baylor College of Medicine in Houston, TX, where he was named Outstanding Resident. He came to Cleveland Clinic for a fellowship in cardiology and stayed on for a fellowship in interventional cardiology, and during this time he became Chief Interventional Fellow. Dr. Kapadia was appointed to Cleveland Clinic in 2003 as a staff interventional cardiologist.
................................ Advertisement ................................
He served as the director of the Sones Cardiac Catheterization Laboratories since 2009 and as section head of Invasive and Interventional Cardiology since 2014
................................ Advertisement ................................
Dr Samir Kapadia in his statement stated, "I am thrilled and honoured to lead our world-renowned team of cardiologists at Cleveland Clinic." Kapadia further added, "I hope to lead with example, fostering innovation, accountability, and respect."
Dr. Kapadia succeeds Steven Nissen, M.D., who served as chair since 2006. Dr. Nissen will now be directing academic and research activities as Chief Academic Officer.
Dr Kapadia specialises in "percutaneous treatment for valve disease, including transcatheter aortic valve replacement (TAVR) and specialized clips for mitral regurgitation, as well as complex coronary interventions and other structural heart disease interventions, including paravalvular leak, atrial septal defect (ASD) and patent foramen ovale (PFO) closure."
"Dr. Kapadia has been a dedicated researcher, educator, innovator and devoted physician to his many patients," said Lars Svensson, Chair of the Miller Family Heart & Vascular Institute. "We look forward to his energy and enthusiasm taking our cardiology team to the next level of national recognition as new innovations are implemented."
U.S. News & World Report consistently names Cleveland Clinic as one of the nation's best hospitals in its annual "America's Best Hospitals" survey and for an Indian to be the head of the department in such a prestigious organization is a moment of pride for all the doctors and nation.
Author Details
Medical Dialogues Bureau consists of a team of passionate medical/scientific writers, led by doctors and healthcare researchers.  Our team efforts to bring you updated and timely news about the important happenings of the medical and healthcare sector. Our editorial team can be reached at editorial@medicaldialogues.in. Check out more about our bureau/team here
................................ Advertisement ................................
9 comment(s) on Indian Origin Cardiologist Dr Samir Kapadia Appointed HOD Cardiology at Cleveland Clinic