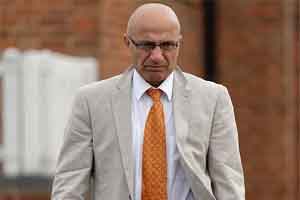 London: An Indian-origin doctor from the East Midlands region of England who was arrested for allegedly circumcising a baby boy without his mother's consent has been released without charge.
Dr Balvinder Mehat, a general practitioner (GP), was accused of carrying out a non-therapeutic circumcision or a procedure for religious rather than medical reasons on the three-month old baby four years ago.
"The Crown Prosecution Service (CPS) deemed that there would be no realistic prospect of conviction Nottinghamshire Police said, adding that they had thoroughly investigated the incident.
The baby's paternal grandmother, believed to belong to the Muslim faith, had taken the baby to Mehat's surgery in Nottingham for the procedure in July 2013.
The 61-year-old GP told the police when he was arrested back in June this year that he believed the mother had consented.
The police had also arrested the boy's father and paternal grandmother on suspicion of conspiracy to commit grievous bodily harm, but they were released without charge as well.
In a letter to the boy's mother outlining its decision, the CPS said that had Mehat performed the operation knowing the mother did not consent, his actions may have amounted to an assault.
"He may have failed in his professional obligations to discuss the issue of consent with you. But that in itself is not sufficient for there to be a criminal prosecution," it noted.
The boy's parents are separated and the procedure took place when he was with his father's family. Now aged four, the boy suffers from a number of recurrent problems, including inflammation and infections, as a result of the circumcision, according to his mother.
"I will fight this until my last breath if I have to, its the only way I can possibly look my son in his eyes, she told the BBC.
Human rights lawyer Saimo Chahal is appealing the CPS decision and has written a letter, "outlining numerous defects in their decision-making process and evaluation of this case".
Circumcision is widely practised in both the Jewish and Muslim faiths around the world.
Guidelines from the British Medical Association state that both parents should give consent for any non-therapeutic or "ritual" circumcision of children.
If parents disagree, a doctor may only proceed with the permission of a UK court.
Children old enough to express their opinion should be consulted, and their wishes must be taken into account.
Mehat, based at Bakersfield Medical Centre in Nottingham, has declined to comment due to patient confidentiality rules.
Read also: Indian origin doctor arrested over circumcision of baby
1 comment(s) on Indian origin doctor cleared over circumcision of baby in UK