Indian origin doctor with 118 sex offences appears in UK court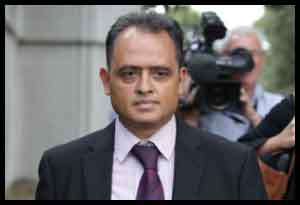 LONDON: An Indian-origin family doctor, charged with 118 sexual offences, appeared for a plea and trial preparation hearing at a court in north-east London.
Manish Shah, a resident of Romford area of east London, had been charged with 65 counts of assault by penetration and 52 allegations of sexual assault by Scotland Yard last month.
The 47-year-old is also charged with one count of sexual assault on a child under the age of 13.
Judge Martyn Zeidman, the honorary recorder of Redbridge, granted Shah conditional bail until his next case management hearing on November 10.
At the hearing at Snaresbrook Crown Court, Shah spoke only to confirm his name and indicate that his plea will be not guilty.
As per his bail conditions, Shah is not to attend his former surgery in east London, contact any past or present patients or employees, or access any medical records held by the country's state-funded National Health Service (NHS).
He is also barred from practicing as a doctor after having been suspended by the General Medical Council (GMC) since August 2014.
The offences, which Shah denies, are alleged to have taken place at a medical practice in Havering, Romford, between June 2004 and July 2013, when he was first arrested.
Scotland Yard had launched an investigation after several people contacted the police in July and August 2013.
"Manish Shah has been charged with 65 assault by penetration, contrary to Section 2 of the Sexual Offences Act 2003, 52 sexual assault, contrary to Section 3 of the Sexual Offences Act 2003, and 1 sexual assault on a child under 13 years, contrary to Section 7 of the Sexual Offences Act 2003," the Metropolitan Police said in a statement last month.
Shah is a family planning specialist who trained at St Bartholomew's Hospital in London and qualified in 1993.
Until recently, he was listed as working in a limited capacity at a general practitioner (GP) surgery in Southend- on-Sea, Essex.
The alleged offences do not relate to his time at that particular practice in the east of England.
Read also: Dr Manish Shah, A Indian origin doctor charged with 118 sex offences in UK