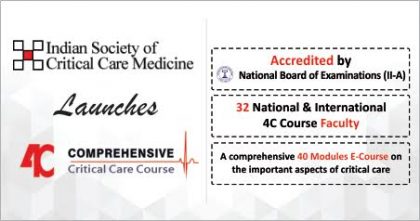 New Delhi: Indian Society of Critical Care Medicine has started an online e-course Comprehensive Critical Care Course (4C) to impart the benefit of this to a large number of physicians in India and worldwide.
 This course has also been accredited by National board of Examinations.
The Rationale: An Intensive care physician needs to have basic knowledge of Mechanical Ventilation, Hemodynamic Monitoring, Airway and Trauma Management, along with a comprehensive knowledge in medicine, cardiology, nephrology, gastroenterology, pulmonology, infectious diseases, and anaesthesia.
So it has become essential for all care givers to keep themselves well versed and updated with the latest advances in this field.
This course has more than 40 modules to be covered over a period of 12 weeks. Each module comprises of lectures, take home messages, suggested readings, interviews with experts and demonstrations. So this course will train doctors only with basic knowledge and will encourage them to read more
WHO SHOULD ATTEND IT : Respiratory medicine students,all students of critical care courses,Anaeshesiologists, Emergency Physicians and any physician or surgeon with interest in critical care
Certification : At the end of the course
Duration :to be completed over a period of 120 days
Organiser- Indian Society of Critical Care Medicine founded in 1993 and still growing stronger & bigger with over 9000 members at present. And the great news is that critical care medicine has now established itself as a standalone super specialty in India and even all over the world.
Indian College of Critical Care Medicine under The Indian Society of Critical Care Medicine has been training physicians in various courses like Post MBBS course, Indian Diploma in Critical Care Medicine (IDCCM), Indian fellowship in Critical Care Medicine (IFCCM) and Indian Diploma in Critical Care Nursing (IDCCN) at more than 250 institutions, nationwide.
The 4C course has been conceptualized  coordinated  and executed by Dr Rajesh Chawla as chief coordinator and moderator.Dr Rajesh Chawla,Past President of Indian Society of Critical Care Medicine is currently working as senior consultant in Respiratory  Medicine and Critical Care Indraprastha Apollo Hospitals New Delhi.
For Registrations, Click on the link 
0 comment(s) on Indian Society of Critical Care launches 4C- Critical Care Medicine E-Course