................................ Advertisement ................................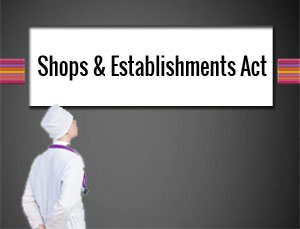 Maharashtra: The government of Maharashtra recently introduced the Maharashtra Shops and Establishments (Regulation of Employment and Conditions of Service) Bill, 2017 in the Maharashtra Legislative Assembly and the new bill categorically includes Doctors and Hospitals in the definition of establishment.
Much to the chagrin of doctors, the bill is in sharp contrast with the previous numerous court judgments that implied that individual medical practitioners cannot be considered as commercial establishments. However, if the bill is cleared by the legislative assembly, both individual practitioners, clinic owners as well as hospitals will have to comply and register themselves under the Act.
Following are the salient features of the bill
Applicability
The bill defines the establishment as following
................................ Advertisement ................................
…establishment" means an establishment which carries on, any business, trade, manufacture or any journalistic or printing work, or business of banking, insurance, stocks and shares, brokerage or produce exchange or profession or any work in connection with, or incidental or ancillary to, any business, trade or profession or manufacture; and includes establishment of any medical practitioner (including hospital, dispensary, clinic, polyclinic, maternity home and such others)
Registration of Establishments
For Establishment with 10 or more employees– The bill states that Within a period of sixty days from the date of commencement of this Act or the date on which establishment commences its business, the employer of every establishment employing ten or more workers shall submit application online in a prescribed form for registration to the Facilitator ( under the Act) along with fees and details, post which the facilitator will register the establishment, and issue a registration certificate along with the Labour Identification Number (LIN) to the employer.
For Establishment with less than 10 employees– Such establishments will have to give an intimation of having commenced the business to the Facilitator ( in prescribed format) against which the Facilitator shall
issue to the employer of such establishment a receipt of intimation.
The bill also specifies notification of changes made in the business as well as closing down of business etc
Hours of Work- Subject to the other provisions of this Act, no adult worker shall be required or allowed to work in any establishment for more than nine hours in any day and forty-eight hours in any week. No adult worker shall be asked to work continuously for more than five hours unless he has been given a break of not less than half an hour.
Provided that, the working hours or weekly holiday may be relaxed in case of work of urgent nature with the previous permission of the Facilitator
Women Employees– The bill calls for prohibition of discrimination against women, while also specifying the following
No woman worker shall be required or allowed to work in anyestablishment except between the hours of 7 a.m. and 9-30 p.m.
Provided that, the woman worker with her consent, shall be allowed to work during 9-30 p.m. and 7-00 a.m. in any establishment in which adequate protection of their dignity, honour and safety, protection from sexual harassment and their transportation from the establishment to the door stepof their residence as may be prescribed are provided by the employer or his authorised representative or manager or supervisor.
Spread-over in establishments– The spread-over of a worker in establishment shall not exceed ten and half hours in any day, and in case a worker entrusted with intermittent nature of work or urgent work, the spread over shall not exceed twelve hours
Wages for overtime- Where a worker in any establishment is required to work beyond nine hours a day or forty-eight hours a week, he shall be entitled, in respect of the overtime work, wages at the rate of twice his ordinary rate of wages. The total number of overtime hours shall not exceed one hundred and twentyfive hours in a period of three months.
Leave with pay and payment of wages  -The bill lays down the conditions for payment of wages while specifying the provisions for leaves for workers including mandatory weekly off , eight days casual leaves as well as etc
Establishments covered in the act would have to provide many welfare provisions to the workers including first aid, drinking water, toilets, canteen, Creche facility( for establishment with more than 50 workers) etc
Enforcement and Inspection
The bill empowers the chief facilitator, as appointed by the state government, to inspect the establishment in accordance with the provisions laid down in the act.
Offences and Penalties
 Penalty for contravention of provisions of this Act-  fine which may extend to one lakh rupees and in the case of a continuing contravention, with an additional fine which may extend to two thousand rupees for every day during which such contravention continues (Provided that, the total amount of fine shall not exceed two thousandrupees per workers employed.). For repeat offeneders, fine may go upto Rs 2 lakh
Penalty for contravention of provisions of this Act which resulted in accident-Save as otherwise expressly provided in this Act, where an employer on being held guilty of contravention of any of the provisions of this Act or any rules made thereunder which has resulted in an accident causing serious bodily injury or death of a worker, he shall, on conviction, be punished with imprisonment which may extend to six months, or with fine which shall not be less than two lakh rupees and which may be extended to five lakh rupees, or with both.
Attached is the copy of the bill
Meghna A Singhania is the founder and Editor-in-Chief at Medical Dialogues. An Economics graduate from Delhi University and a post graduate from London School of Economics and Political Science, her key research interest lies in health economics, and policy making in health and medical sector in the country.
She can be contacted at meghna@medicaldialogues.in.
Contact no. 011-43720751
................................ Advertisement ................................
9 comment(s) on Individual Doctors under new Shops and Establishments Bill, Check out Details