Injectable contraceptive to be made available free of cost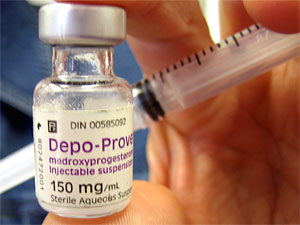 A new form of contraceptive will now be offered to the people of India by the government.

DMPA (deoxy medroxy progesterone acetate) has been recommend by the Drug Technical Advisor Board's to be included in the government's family planning programme. DMPA is a different injectable contraceptive, containing just a progestin, given every three months. This is the commonest type of injectable contraceptive. It is given in a dose of 150 mg intra-muscularly every three months.
NGO's such as the Population Foundation of India have welcomed this move. If the deoxy medroxy progesterone acetate (DMPA) is implemented, it would be the 6th modern contraceptive method to be given free of cost.

The government presently offers five birth control options free of cost in the family planning programmes of India, namely female sterilization, male sterilization, IUD, condoms and pills, the NGOs said.

DMPA is marketed as Depo-Provera in India. It can be prescribed in women where oestrogen is contraindicated. Women discontinuing the use of other contraceptives can use injectables without any delay.

The coalition of 32 NGOs has also offered to provide technical support to the health ministry, under which the Drugs Technical Advisor's Board comes. It has urged the board to address issues of quality care during delivery and consistency in supplies of injectables.