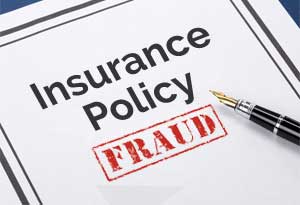 Dausa: The Rajasthan Police arrested six people, including a government doctor and an assistant sub-inspector, on charges of fraudulently claiming insurance money with fake documents of the death of a living man.
The police have busted the gang of fraudulent as they were declaring the living people as 'dead' to claim insurance money.
The arrested accused include Dr Satish Kumar Khandelwal, a senior doctor at the government hospital in Dausa and Ramesh Chandra, an ASI deputed at Kotwali polices station in Dausa. Other accused were identified as Raghuraj Singh Chouhan, Rajesh Kumar, Chaturbhuj Meena and Yash Chouhan. Chaturbhuj Meena worked as a lawyer in Dausa.
The arrest was made, where the police have initiated an investigation to the husband and wife, who was the nominee in the insurance policies.
The fraud came to light when an official of one of the insurance companies came to Dausa for inquiries and found out the documents related to the man's death were fake. He added that a case of fake insurance claim was registered at Kotwali police station in Dausa on October 10 last year.
Umesh Mishra, ADG, SOG informed Pink City Post, "We came to know about a company named FRM Investigation Agency. One Raghuraj Singh Chouhan from this agency connived with a Union Bank of India employee Rajesh Kumar, Dausa-based advocate Chaturbhuj Meena, a senior doctor of Dausa government hospital Satish Kumar Khandelwal, an ASI deputed in Kotwali police station of Dausa Ramesh Chand and a Delhi-based aide Yash Chouhan to prepare insurance policies and claim insurance money by fraudulently declaring Jitendra Singh dead."
He added that insurance policies were taken out from different companies including Birla Sun Life, Bajal Alliance, Aegon Religare and ING Vysya Bank in the name of Jitendra Singh.
"Raghuraj Singh and Yash Chouhan asked ASI Ramesh Chand and doctor Satish Kumar Khandelwal to prove the death of Jitendra Singh in a bogus accident case. A fake entry of Jitendra's Singh death was entered into the police station records by Ramesh Chand, while Dr Satish Kumar Khandelwal issued a fake postmortem certificate so that a bogus death certificate could be prepared," said Mishra.
Using the bogus death certificate, an insurance claim of Rs 12 lakh was successfully made at Bajaj Alliance. They also got Rs 2 lakh each from Pradhan Mantri Jeevan Jyoti Bima and Prime Minister Jeevan Suraksha Yojana. They made Jitendra Singh's wife to claim the money. They then divided the money among the gang members, report Pink City Post
"We will take custody of the six accused to interrogate them and get to the bottom of the racket. These people could be involved in other cases of fraudulent insurance claims as well," Additional Director General of Police (DGP) Umesh Mishra told ANI.
1 comment(s) on Insurance policy fraud: Government doctor arrested for fake postmortem certificate