Pedestrian dies in Road Accident, RML Anaesthetist arrested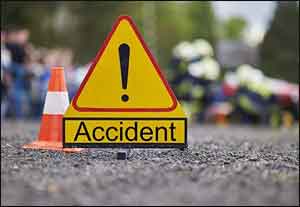 New Delhi: An anaesthetist attached to the Ram Manohar Lohia (RML) Hospital has been arrested for running over a 28-year-old pedestrian while speed-driving his car, allegedly in an inebriated state. The man reportedly died while undergoing treatment.
The incident happened at Lodhi Colony on August 19. According to the complaint filed by the mother of the deceased, she and her son, Satish, were returning home from the area and walking towards a bus stand when the accident took place.
The complainant alleged that a speeding car, being driven by the accused, Dr Singh in a 'zigzag' movement, came and hit her son, following which he was flung nearly 10 feet in the air before falling down. She raised an alarm and called passersby for help. On seeing the crowd, Dr Singh immediately sat with them in an auto-rickshaw. They reached AIIMS Trauma Centre, where the man was admitted in the Intensive Care Unit (ICU).
Certain police sources informed the media that after the argument Dr Singh was called for a compulsory medical examination, but he somehow managed to escape from the premises. Thereafter, the mother lodged an FIR at the Lodhi Colony police station further to which, the police seized the doctor's car from the spot and started an investigation.
The police also recorded the statements of the eyewitnesses, who informed that the accused doctor seemed to be in an inebriated condition.
While confirming the arrest of the doctor, the police officials told the Indian Express that they traced  the doctor through his car registration number and arrested him, after a case under sections 304-A (causing death by negligence) and 279 (rash driving) of the IPC was registered.
Police officials confirmed that the accused in the case, Dr Singh, works in the anaesthesia department of Ram Manohar Lohia Hospital.
In his justification, the doctor told the police that "he escaped from the spot after he had a heated argument with the victim's family members," the officer said, adding that he was later released on bail.
Read Also: Bengaluru: Oncology Surgeon arrested under running over pedestrian in drunken state