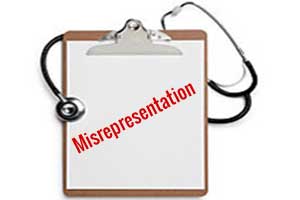 Jaipur: A DGO gynecologist in Jaipur has been booked under various sections of the Indian Penal Code including IPC 420 for portraying herself  as an MS (Gynecology).
The case in this regard was filed by the husband of a pregnant patient who had come to Randhawa Hospital, Jaipur under the care of Dr. Kanwardeep Randhawa. The petitioner alleged that the said doctor gave prescriptions on her printed letterhead stating her qualifications MBBS, DGO, and MS (Gynaecology). The petitioner further that the doctor also proclaimed herself to an MS and a specialist in Gynaecology.
When the pregnant woman had pain in her abdomen on the night 20/05/2001, she was rushed to the said hospital where she was admitted under the care of Dr Randhawa who further assured them that she was an MS and a qualified surgeon. All her documents, including prescription, Signboards and hoardings stated she was an MS. The patient was then booked for delivery at the hospital.
The doctor instead of adopting delivery by lower (uterine) segment cesarean section (LSCS), delivered the baby with forceps causing severe brain damage to the baby as well as  "instrumental trauma" that further caused heavy bleeding to the mother and ultimately her uterus had to be removed.
The patient filed a medical negligence as well as a cheating case against the doctor.
Medical Dialogues team had earlier reported that the MCI Ethics Committee, taking action against the doctor had found her guilty of both negligences as well as violations of the MCI regulations and had announced the suspension of the said doctor for a period of six months.
Read Also: Jaipur: MCI recommends suspension of a private doctor
Rajasthan Medical council confirmed the said doctor held a two-year diploma in Gynaecology ( DGO) and did not have the MS degree as proclaimed by him. The Magistrate quoted that this is a violation of the MCI regulations which clearly that the two degrees are not equivalent, and such a proclamation amounts to a violation of Section 6A(1). Similar clauses are mentioned in the Rajasthan Medical Council Act.
Doctor in her defense stated that the MS degree in the prescription slip was a misprint adding that DGO is enough and apt to provide the treatment that was given to the patient. Moreover, the doctor added that DGO can call himself/herself a specialist in Gynaecology as per the PG Medical Regulations, 2002
After going through all the submissions, the court set aside the argument of a misprint after the petitioner submitted several prescriptions that contained her degree as MS.  Refraining to comment on the comparison of DGO and MS qualifications, the court noted that the presentation by the doctor proclaiming herself as MS without having the said qualification amounts to cheating.
After going through the submissions, the court accepted the plea of the petitioner asked the police to book the doctor under IPC Section 420 ( Cheating),  406. (Punishment for criminal breach of trust), 468(  Forgery for purpose of cheating), 471 (  Using as genuine a forged document or electronic record)
45 comment(s) on IPC 420 against DGO for portraying herself as MS Gynaecology