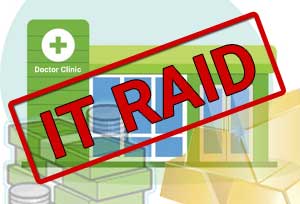 Moradabad: Shocking Discoveries were made, when the officials from the income tax department raided a hospital run by a prominent doctor in the area. As per recent Media reports, with the recent income tax aid at Anushka Hospital in Moradabad, the officials found the Rs 18 crore in cash, 8 kg gold and 30 kg silver.
TOI reports that a IT raid was started on Thursday at Anushka Hospital, which run by a reputed doctor Dr Rajeev Gupta, a prominent  gastroenterologist and his wife Dr Sadhana Gupta, gynaecologist which continued for more than 36 hours
Informing about the raid, MK Pandey, deputy director of Moradabad I-T department, told TOI while the doctor couple had surrendered Rs 14 crore in cash to the sleuths, the team seized another Rs 3.5 crore cash, 8 kg gold worth Rs 2.5 crore, 30 kg silver worth Rs 12 lakh and documents related to undisclosed properties worth Rs 8 crore. Two bank lockers registered in the couple's name have also been seized, the details of which are not yet known. The IT sleuths have also seized the laptops, mobile phones, etc of the couple and are now going to analyse them for further investigations. The hospital staff is also being investigated by the officials
The daily adds the IT raids are happening in the area of businessmen and professionals including doctors, CAs etc as many have not deposited their advance taxes.
"The department had warned them that they could avoid raids by depositing their advance taxes," an I-T official said.
22 doctors are on the raider of the department, sources told TOI
9 comment(s) on IT raid at Prominent Gastroenterologist's Hospital, Rs 18 crore Cash seized