Jailed Gorakhpur doctors Being denied Medical treatment: Dr Kafeel Khan's Wife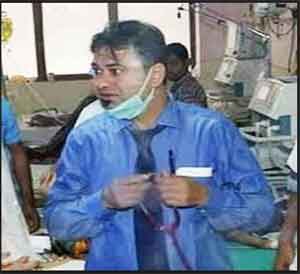 Gorakhpur: The wife of a doctor arrested after several children died in BRD Medical College here last year has alleged that her husband and other doctors were being denied medical care in jail.
The district prison authorities have rejected the charge.
 Dr Shabistan Khan's husband Kafeel Ahmed is among the nine accused in a case registered after the deaths last August, allegedly due to lack of oxygen supply.
She alleged at a press conference at her home that the doctors lodged in the prison may be "killed".
She said her husband suffered a heart stroke on March 29 but was not given proper treatment.
News 18 reports about the statement given by her whereby she stated, "My husband's health is deteriorating. Doctors have said that the case must be referred to Lucknow, but it the jail administration is not executing the orders. I fear for my husband's life."
"The former BRD Medical College principal, Dr Rajiv Mishra, is suffering from liver disease and diabetes but he is also not getting proper medical attention," she claimed.
Dr Khan said another accused, Dr Purnima Shukla, who is suffering from a hairline fracture, is also not getting the required attention. "I met Dr Rajiv. He has turned pale and lost weight. My husband has also lost weight and they need good treatment," she said. "Over eight months have passed but no justice has been delivered," she added.
She said the doctors were being made scapegoats for the tragedy when the "big fish" were responsible.
She blamed the state governments medical department for allegedly not releasing funds for the company supplying oxygen cylinders to the hospital.
When contacted the jails senior superintendent said Dr Kafeel had some health problems. The prison cardiologist did a check-up on him and prescribed some medicines.
The prison authorities have sought security personnel to accompany him for visits to doctors outside, he said.
He said Purnima Shukla hurt herself when she slipped while going to the bathroom, and was given medical treatment. "The condition of Dr Rajiv and Dr Purnima is improving," he said.
last year, Medical Dialogues team reported about the mournful incident where as many as 58 infant deaths were reported from the Baba Raghav Das (BRD) Medical College within four days due to the shortage of oxygen.
There were allegations that the deaths occurred due to disruption in oxygen supply as the vendor had not been paid for several months. The vendor has been granted bail a few days ago. No relief has come towards the doctors accused in the case who are still in jail
Read Also: Gorakhpur hospital deaths: Supreme Court grants bail to oxygen supplier