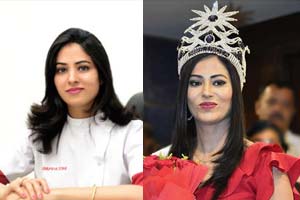 Jaipur: A well-known dentist from the pink city has been shortlisted among the top finalists for 'Mrs Asia International Beauty Pageant'- a prestigious beauty pageant for all the married women across the continent.
The contest will take place from 9th to 14th November with participants from over 25 countries.
A mother of two children, Dr Soni has two titles of Mrs India and Mrs Rajasthan to her credit and now she is preparing to represent India in the international beauty pageant.
Dr Anupama Soni is well-known dentist holding the position of director of dentistry department at Medispa Laser and Cosmetic Surgery Center.
She has completed her Under-graduation as well as Post-graduation in dentistry course (BDS and MDS) from Dr D Y Patil Deemed University, Mumbai. She is a gold medallist in MDS and has done a course in Conservative Dentistry and Endodontrics.
With over 7 years of clinical experience and same as teaching experience, Dr Soni is a regular participant of various dental conferences. She has also published dentistry papers in the past years such as Dentistry Today Plus, 2005; Famdent, 2006; Dental Dialogue, 2007; Endodontology, 2007.
She has contributed in a clinical research- A Comparison of Canal Centering ability of two nickle titanium systems and ni-ti hand instrumentation with stainless steel hand instrumentation in 10-25 degree curved canals using Endo-kuttler's cube, 2007.
She is currently is a member of Federation of Operative Dentist India (FODI), Indian Endodontic Society (IES) and Indian Dental Association (IDA).
Sharing her excitement after being shortlisted for the Mrs Asia International Beauty Pageant, Dr Soni, who is also a goodwill ambassador of Road Safety in Jaipur, told PTI, "I have been preparing for the competitions with the support of my family and I am confident of winning the competition."
In the six days of the competition, the participants will have to compete in different categories and events such as introduction, national costume, and talent round among others.
Mrs Asia International Pageant is an extravaganza platform for married and senior ladies to showcase their beauty, talents and success in a more contemporary and glamorous approach, which especially caters to Asian married women.
All married women – young wives, mothers and even grandmothers from Asia Countries or Asian from other parts of the world – are eligible to participate.
Read Also: Jodhpur based Gynaecologist Crowned Mrs Earth International 2018
2 comment(s) on Jaipur-based Dr Anupama Soni to represent India in Mrs Asia International Pageant