Jaipur: Govt Doctor in trouble for taking patient to private hospital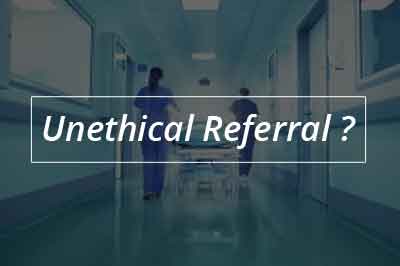 Jaipur: An Associate professor with the SMS Hospital has found himself facing the wrath of the Lokayukta after the allegations that he shifted a patient out of government hospital to a private hospital and operated on her, came to light.

TOI reports that Lokayukta SS Kothari has taken suo motu cognizance in the matter and sought responses from the state health authorities as well as the SMS hospital authorities.

The case states that a female patient Rajjo Devi was admitted to SMS hospital following a brain hemorrage on April 10th, 2017. Upon the advice of the doctor, she was shifted to Amar Hospital at Mansarovar, where he operated on her. For the same, the relatives alleged that the doctor charged Rs 50,000 to conduct the operation and they additionally paid Rs 60,000 for the hospital services.

The patient's condition, however, deteriorated, and she was shifted back to SMS hospital on April 15th, where she soon succumbed to her illness.

The family then filed a complaint against the doctor and the hospital for negligence at the Ashok Nagar Police station.

The Lokayukta, taking suo-motu cognizance in the matter, has now sought report from both Principal Secretary medical and health and superintendent of the SMS Hospital on what action has been taken against the said doctor for pressuring the relatives for the patient to admit at a private hospital and getting remuneration for the treatment. It has also sought the discharge sheet of the private hospital as well as the copy of the FIR.