Jaipur: Hotelier donates Emergency Room to Eternal Hospital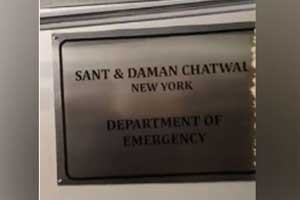 Jaipur (Rajasthan): Indian-American businessman Sant Singh Chatwal, along with his wife, Daman Chatwal, donated an 11-bed Emergency Department at Jaipur's Eternal Multi-specialty hospital.
"This is our Emergency department..there are 11 beds and it is going to go expand further," said Dr Samin K. Sharma, Chairman and Chief Interventional Cardiologist at the Hospital.
"It has been donated by Daman and Sant Chatwal from New York," he added.
A recipient of Padma Bhushan, the third highest civilian honor granted by the Indian Government, Chatwal had started small in his career, becoming a partner in a restaurant in Addis Ababa, Ethiopia, where continued success allowed him to buy out the other partner.
He eventually made his way up in the industry in Canada, where he acquired his first hotel, and then in the United States, where he expanded his chain and culminated it into the Hampshire Hotels and Resorts, later renamed as the Dream Hotel Group.
Eternal Hospital, a unit of Eternal Heart Care Centre and Research Institute, is a state-of-the-art tertiary care hospital in Jaipur city.