Jaypee Hospital announces completion of over 100 transplants in 1 year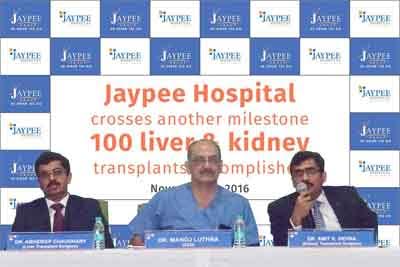 Noida : Jaypee Hospital in Sector 128 Noida, recently announced the achievement of a milestone in performing more than 100 successful liver and renal transplants at affordable rates. The hospital was established two years ago in 2014 and started performing the liver and renal transplants by 2015 and has already completed 107 transplants.
Commenting on this occasion, Dr. Manoj Luthra, CEO, Jaypee Hospital said, "I congratulate the team of doctors from Liver and Renal Transplant departments of the hospital, whose great effort and experience have resulted in this success. This is a very proud moment for us that our hospital has been able to contribute to this cause.  In the last two years, we have treated more than 2 lakh patients in various specialities and we feel blessed that the people have faith in us and our services. We wish to serve more people in the coming times by extending our services to other regions as well."
Our team of doctors has done many successful transplants in patients with critical medical disease including ABO incompatible liver & kidney transplantations.
Dr. Abhideep Chaudhary, Senior Liver Transplant Surgeon, Jaypee Hospital said, "Around two lakh people die every year due to liver ailments. In India about 30,000 patients need liver transplant every year but only 1800 are being transplanted currently. Alcoholic cirrhosis represents the most common cause of cirrhosis and accounts for 40% of liver deaths. Among the many causes behind liver ailments, infected viral hepatitis C is one of the major causes in North India."
Dr. K.R. Vasudevan, Senior Liver Transplant Surgeon, Jaypee Hospital further added, "Fatty Liver disease is the third most common cause of chronic liver disease. The numbers are rising and as per the data 1 out of 6 individuals is affected."
Dr. Amit Devra, Senior Consultant, Urology & Renal Transplant, Jaypee Hospital said, "In India about 2, 00, 000 people suffer from kidney failures out of which only 5000 can get a new life through kidney transplant. When the kidney functions less than 10 percent of its original function it is called as an end stage or permanent renal failure. In this stage dialysis or kidney transplant is the only option left."
On the occasion, Senior Nephrologist Dr. Vijay Kumar Sinha discussed about chronic kidney disease. He said that as per the recent study the relation of obesity is not only with the increased risk of developing diabetes and hypertension but also an increased risk of developing renal dysfunction.