Jharkhand: CM inaugurates 200 bed Civil Hospital at Ranchi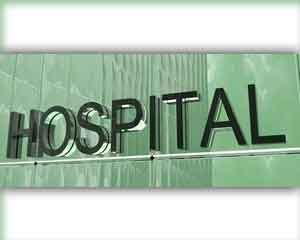 Ranchi: Jharkhand Chief Minister Raghubar Das inaugurated 200-bed Civil Hospital.
Addressing the people on the occasion, Das said that his government is committed to providing better health care to the poor and has taken many steps to improve health services. "The inauguration of 200-bed hospital is another step in this direction. By December 2018, 300 more beds will be increased in it," Das said.
The chief minister said his government is working to modernise the district hospitals as well, so that people should not depend only on RIIMS in Ranchi for their treatment.
Health centres are also being made strong. (Only) three medical colleges were working in Jharkhand even after 70 years of Independence, he said, adding his government has started three new medical colleges in Dumka, Palamau and Hazaribagh having capacity of 500 beds each.
He said the Centre has also approved three more medical colleges in Koderma, Chaibasa and Bokaro. In the next three years, Jharkhand will have nine medical colleges, he added.
AIIMS will start functioning in Deoghar in two years and a cancer hospital in Ranchi in collaboration with Tata Trust will be started soon, he said.
Das said that the maternal-child death rate is high in the state. To decrease it, the doctors should treat 5-10 patients free of cost. Moreover, as per the appeal of Prime Minister Narendra Modi, they should do social service on the 9th of every month and treat women and children free of cost.
The chief minister said that no appointments had been made in the state for years and as a result, there is a big shortage of medical and paramedical staff. Coping with the need, the government has started appointment of doctors, he said, adding a total 536 doctors have been appointed so far. BSc pass youths of villages are being trained in basic medical course so that they can be helpful in first aid at health centres. The first batch will start working by 2019 and very soon, vacant posts of the nurses will be filled up and ANMs will be given priority.
"When Jharkhand will be developed into a medical hub, people will get better medication and new avenue of jobs will be opened.
"Medical based skill development will be done and medical staff will be given 15 days training at ATI building. Very soon, 108 ambulance services with all facilities will be started. (A total of) 359 ambulances will be there in the state so that even remote villages can be within reach," Das said.
The chief minister appealed to the medical and paramedical staff to be sensitive and said that half of the ailments are cured with doctors? behaviour.
Laying stress on sanitation, he said that hospital premises should be neat and clean. He said that dress code should be different for different professionals in government hospitals so that they can easily be recognised.