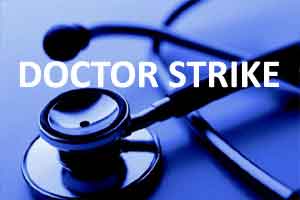 Ranchi: Doctors working with the government hospitals of Jharkhand have called for a three-day strike on  September 28, 29 and 30 demanding for the implementation of Medical Protection Act in all the state hospitals. The doctors have also added that they will wait till October 15, 2016  and if no action is taken in this respect, they will start submitting their mass resignations.
This comes after a joint decision was made to this effect in a meeting held between the state IMA as well as the Jharkhand Health Services Association (JHASA)
The strike will also see participation from the private hospitals of the state on the last day. "All private hospitals, personal clinics, nursing homes, pathology and other services will remain closed on September 30," IMA secretary Dr Pradeep Kumar Singh told HT
The Medical Protection Act aims to protects hospitals and its belongings ( including staff) from being attacked by outsiders. As per the act, the culprit is required to pay a sum of Rs. 50,000 along with a three-year jail term for damaging hospital property and harassing/assaulting doctors.
Hospitals belonging to 18 states are already taking advantage of this act. However in Jharkhand, the act is yet to see proper implementation.
The implementation of act has become an important issue for doctors in the state, with the increasing instances of violence against doctors. Even after a number of hospitals have been damaged and repeated assault on doctors being reported,  there has been no actions taken against the culprits by the government, which has to be done in favor of doctors, if the government is complying to the Medical Protection Act in true sense.
IMA state president Dr AK Singh told HT, "The government has given us continuous assurances till now. We are done with accepting assurances from the government and want concrete action now."
On the issue of mass resignation Dr. AK Singh added "The doctors at the primary health centres and community health centres will soon start submitting their resignations at the district levels, where they will be collected and submitted together to the chief minister."
0 comment(s) on Jharkhand: Doctors call for a 3 day Strike on implementation of Medical Protection Act