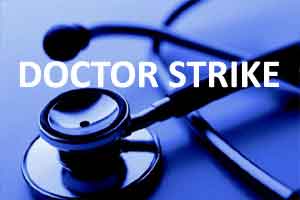 Dhanbad: Doctors and interns of Patliputra Medical College (PMCH) went on strike after family members and relatives of a patient thrashed junior doctors in central emergency alleging delay in treatment.
The doctors and interns at the hospital went on indefinite strike since yesterday night, official sources said.
Therefore, services at the hospital were affected.
PMCH superintendent Dr Kameswar Biswas admitted that the doctors strike affected services.
The out patient department (OPD) patients had to return unattended after waiting for doctors in hospital till 1 pm due to the strike, sources said.
According to PMCH registration records around 2,700 patients had appointments with doctors of various departments today.
According to PMCH authorities Dr Yogesh and Dr Abhishekh were attacked by the patients family.
Dr Yogesh received an eye injury and Dr Abhishekh was attacked with a sharp weapon from behind.
A complaint has been lodged with the police.
The striking doctors demanded that the culprits should be arrested immediately, installation of CCTV in the hospital and security cover.
They also demanded that only two attendants of a patient should be allowed to enter the central emergency.
1 comment(s) on Jharkhand: Doctors go on indefinite strike at PMCH