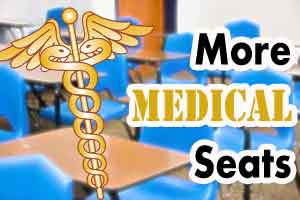 The Rajendra Institute of Medical Sciences (Rims) in Jharkhand is seeking funds to the tune of Rs 120 crore for upliftment of its existing infrastructure and accommodate more students for its MBBS course.
RIMS is also reported to be pushing for an approval of 100 MBBS seats in the 2017-18 batch, beginning next year. This development comes at a time when there are three new medical colleges in the state waiting for things to happen.
For this purpose, RIMS will be writing to the Union ministry of health and family welfare to grant them funds to boost their infrastructure.
If the institute gets an MCI approval on the seats, then it will be offering 250 undergraduate seats in the hospital. It will also address the prevailing situation of shortage of doctors in the state.
The government in the interim will take strict action against doctors who migrate to other states from the existing medical college's midway through their course. A heavy penalty is likely to be imposed on them.
As reported by TOI, in a meeting with the Union ministry officials late last week, Rims director BL Sherwal tabled the need for funds under the Union's Central-state Medical College Upgradation scheme (CSMCUS).
Under the scheme, the Union government is mandated to pool in 75% of the total expenditure while the rest is to be borne by the state. The fund will be diverted towards building new academic blocks and residential complexes.
"We have informally put in the word last year and the response was in the affirmative. An official requisition will be sent to New Delhi next week," Sherwal told reporters at Rims on Tuesday.
0 comment(s) on Jharkhand: RIMS seeks grants worth 120 crore from health ministry