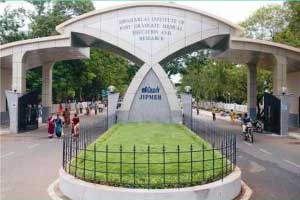 Puducherry: The Jawaharlal Institute of Post Graduate Medical Education and Research (JIPMER) has recently extended their Telemedicine activities with Auckland, New Zealand.
According to a JIPMER release on Thursday, the scientific programme was organised for the Department of Surgical Gastroenterology using Asia Pacific Advanced Network(APAN) for two days.
Dr Kalyanasundaram (Associate Professor) from the Department of Surgical Gastroenterology delivered Lecture Online on 'Minimally Invasive (Laparoscopy and Robotic) Gastrointestinal Surgery'. Besides him, other Faculty and Residents also participated in the Scientific Session.
JIPMER being a Regional Resource Centre (RRC) for Telemedicine for more than 160 Medical Colleges of South India, has been collaborating Telemedicine activities globally using National Knowledge Network (NKN) with various countries like Japan, Korea, Bangladesh, Bhutan, Myanmar, Thailand, Srilanka, Nepal, Australia, UK, Morocco, Italy.
0 comment(s) on Jipmer extends telemedicine activity to New Zealand