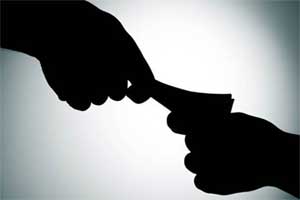 Mumbai: An official of a state-run hospital here, arrested for allegedly accepting a bribe of Rs 80,000 for clearing the file of a kidney transplant patient, had processed over 500 such files since 2017, the Anti-Corruption Bureau (ACB) told a court here Thursday. On Monday, the ACB arrested has Tushar Savarkar (34), a social service superintendent at government-run J J Hospital and Sachin Salve (32), a coordinator at a private hospital.
They were produced before Additional Sessions Judge Dinesh Deshmukh Thursday after their police (ACB) custody ended. The judge extended their police custody till October 6.
Savarkar was responsible for arranging meetings and getting approved the file of a person needing kidney transplant from the Organ Transplant Committee at J J hospital, special public prosecutor  Sunil Gonsalves said.
"Savarkar joined the hospital in 2017 and had cleared 550 such files since then. We need to probe if he had taken bribes earlier," Gonsalves said.
One person had come forward claiming that he had paid Rs 10,000 for clearance of his file, the prosecutor said. The ACB also wants to probe whether any member of the organ transplant committee was involved, he said.
Savarkar and Salve allegedly demanded Rs 1.50 lakh from the family of Jamaluddin Amir-Ullah Khan who needed a kidney transplant. Later they allegedly settled for Rs 80,000.
The patient was admitted at a private hospital in suburban Mahim, and the wife of his brother-in-law was ready to donate a kidney to him, but the committee's approval was awaited.
To get the approval, Salve sent the file to Savarkar for processing. Savarkar allegedly asked the family for bribe. After the family approached the ACB, a trap was laid and Savarkar and Salve were arrested.
Read Also: JJ hospital Officer, Fortis Hospital Coordinator arrested for kidney transplant bribe
1 comment(s) on JJ Hospital Bribery accused had handled over 500 kidney transplant files: ACB