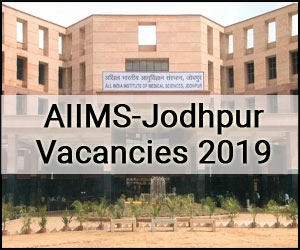 New Delhi: The All India Institute of Medical Sciences, Jodhpur (AIIMS Jodhpur) has released 71 vacancies for the post of Senior Resident on Contractual Basis. The selection will be done on the basis of Walk-in-interview.
AIIMS, Jodhpur invites applications from Indian Citizens as per the Govt. of India's Residency Scheme, for the following post of Senior Residents for a period of 11 months or up to next regular Interview, whichever is earlier. Candidate can apply in prescribed format and on the terms and conditions as mentioned in Annexure "A".
The Walk in Interview will be held on 25th and 26th March, 2019 at 10:00 am at Medical College of AIIMS, Jodhpur (Rajasthan).
The Vacancies are in the Department of Anaesthesiology and Critical Care, Anatomy, Cardiology, Cardiothoracic Surgery, Dentistry (Pedodontics), Diagnostic and Interventional Radiology, Endocrinology & Metabolism, Forensic Medicine & Toxicology, Gastroenterology, General Medicine, General Surgery, Medical Oncology / Haematology, Neonatology, Nephrology, Neurology, Neurosurgery, Nuclear Medicine, Ophthalmology, Orthopaedics, Paediatric Surgery, Paediatrics, Pathology, Physical Medicine and Rehabilitation, Psychiatry, Radiotherapy, Surgical Gastroenterology, Surgical Oncology, Transfusion Medicine and Blood Bank, Trauma & Emergency (Medical), Trauma & Emergency (Surgical), Urology.
For more details about Senior Residents, Recruitment click on the given link:
Qualification: 
MD/DNB (Anaesthesiology), MD/ MS / DNB (Anatomy) / M.Sc. (Anatomy) with Ph.D, DM/DNB (Cardiology), M.Ch./DNB (CTVS), MDS(Pedodontics), MD/DNB (Radiology), DM/DNB (Endocrinology), MD/DNB (Forensic Medicine), DM/DNB (Gastroenterology), MD/DNB (General Medicine, MS/DNB (General Surgery), DM/DNB (Medical Oncology)/DM/DNB (Haematology), MD/DNB (Paediatrics)/DM/DNB (Neonatology), DM/DNB (Nephrology), DM/DNB (Neurology), M.Ch/DNB (Neurosurgery), MD/DNB (Nuclear Medicine), MS/DNB (Ophthalmology), MS/DNB (Orthopaedics), M.Ch/DNB (Paediatric Surgery), MD/DNB (Paediatrics), MD/DNB (Pathology), MD/DNB (PMR), MD/DNB (Psychiatry), MD/DNB (Radiotherapy), M.Ch/DNB (Surgical Gastroenterology),
AGE LIMIT: 
Upper age limit as on 31st March, 2019:

a) For eligibility to apply for these posts upper age limit as on 31st March, 2019 will be 37 years. This is relaxable for SC/ST candidate for a maximum period of five years. In the case of OBC candidates it is relaxable upto a maximum period of three years. In the case of Orthopaedics Physically Handicapped (OPH) candidates, this is relaxable upto maximum period of Ten years for General Category, Thirteen years for OBC category and Fifteen years for SC/ST category candidates.
b) For those applying for these posts after completing DM/M.Ch Courses, the upper age limit as on 31st March, 2019 will be 39 years. The age limit is further relaxable for SC/ST candidates, OBC candidates & OPH candidates as above.
c) The candidates who are in service in any Government Institutions are required to submit No Objection Certificate from the employer at the time of Interview. The candidates will not be permitted for Interview if they fail to produce no objection certificate on the day of interview during scrutiny of documents.
PAY SCALE: 

Senior Resident: ₹ 18,750 + 6,600 (Grade Pay) + NPA plus other usual Allowances or revised pay scale as per 7th CPC as applicable. (Level – 11 of the Matrix (Pre-Revised PB – 3, entry pay of the ₹ 67,700/- PM + usual allowance admissible under rules).
NOTE:-
1. The above vacancies are provisional and subject to variation. The Director, AIIMS, Jodhpur reserves the right to vary the vacancies including reserved vacancies as per the Govt. of India rules/circulars and requirements.
 2. Reservation will be as per Government of India Policy.
3. 3% vacancies are reserved for physically handicapped (PH) candidates.
APPLICATION FEE:
i) For OPH Candidate: NIL
ii) General/OBC category: ? 1,000/-.
iii) SC/ST category: ? 800/-.
The fee shall be paid in the form of a Demand Draft/ Pay Order only, in favor of "AIIMS, Jodhpur" payable at Jodhpur. Candidate may deposit the requisite fee in cash at the time of interview.
TERMS & CONDITIONS:
Tenure:- The appointment for a period of 11 months or upto next regular Interview, whichever is earlier. This appointment will not vest any right to claim by the candidate for permanent absorption in the institute OR for continued contractual appointment, which may be renewed or terminated as decided by the Institute.
Remuneration:- The appointment will entitle the appointee to a remuneration as per pay-scale.
For more details click on the original website given below.
1 comment(s) on Job Alert: AIIMS Jodhpur releases 71 Vacancies for Senior Resident post, Details