Job Alert: Armed Forces Medical Services releases 150 Vacancies for Doctors; Details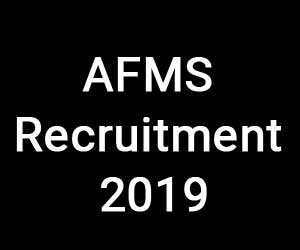 New Delhi: The Armed Forces Medical Services (AFMS) has invited applications for the recruitment of Short Service Commissioned Officer (SSC Officer). A total of 150 Vacancies has been notified out of which 135 are for Male candidates and 15 vacancies are reserved for Female candidates.
Students who have cleared the MBBS examination either in the first attempt or second attempt are eligible to apply for the post of medical officer in the armed forces.
Last Date to Apply: 21-7-2019
The interview will be taking place at the army hospital, Delhi Cantt on 30th of July 2019.
Total No.of  Vacancies - 150 (135 for males and 15 for females) approximately for the year 2019.
For more details on the Age Limit, experience, Pay Allowances, click on the following link:
https://medicaljob.in/jobs.php?post_type=&job_tags=AFMS+officer&location=&job_sector=all
Qualification-
(i) The applicant must possess medical qualification included in First/Second Schedule or Part II of the Third Schedule of IMC Act 1956.
(ii) The applicant must have permanent registration from any State Medical Council/MCI.
(iii) Candidates with Post Graduate Degree/Diploma recognized by State Medical Council/MCI/NBE can also apply.
(b) Internship. Only those candidates who have completed or are completing their internship on or before 30 Jun 2019 can apply.
How to Apply Online:
The application will be accepted online only. To do so the candidate needs to click on the "NEW REGISTRATION" button on the website amcsscentry.gov.in and follow the steps.
Important Instructions for Strict Compliance-
(a) The following essential certificates/ documents should be scanned and uploaded: -
(i) Passport Size Photograph (.jpeg, size up to 100 kb)
(ii) Scanned copy of Class X (Matriculation) Certificate/Birth Certificate issued by Municipal Corporation as a proof of date of birth (.pdf, size up to 200 kb)
(iii) Aadhar Card.
(b). Following documents are essential to be produced for verification at the time of interview: -
(i) Matriculation Certificate (Class X)/Birth Certificate issued by Municipal Corporation as a proof of name and date of birth (born after 1992).
(ii) Aadhar Card.
(iii) Permanent Medical Registration Certificate.
(iv) Internship Completion Certificate.
(v) MBBS Degree Certificate, PG Degree Certificate.
(vi) Final MBBS (Part I & II) Attempt Certificate or Transcript Certificate.
(vii) No Objection Certificate from the present employer, if any.
(viii) NCC Certificate, if any.
(ix) National Board of Examination Certificate for Foreign Medical Graduates.
(x) Passport for foreign medical graduates
(xi) Gazette Notification or any other authority clearly highlighting your new name, if there is any change in the name after Matriculation (10th Class).
(xii) 10 passport size photographs, photo identity proof, and address proof.
(xiii) Attestation Form in triplicate duly filled in and attested by Competent Authority (refer Para 18 below).