................................ Advertisement ................................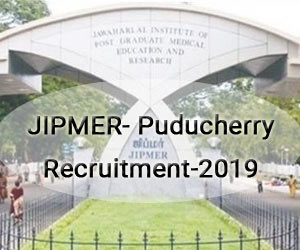 Puducherry- Applications are invited by the Director, Jawaharlal Institute of Postgraduate Medical Education and Research (JIPMER) from eligible candidates for filling up of the certain faculty posts in various disciplines on a regular basis. The candidates will be selected based on interview.
JIPMER became an institution of national importance under the Ministry of Health and Family Welfare, Government of India in the year 2008.
Last Date of Application- 30th August 2019
................................ Advertisement ................................
Vacancy details:
................................ Advertisement ................................
Total no of Vacancies- 41
Professor- 18
Assistant Professor- 23
The Vacancies are in the Department of – Anatomy, Anesthesiology, Cardiology, EMS (Emergency Medical Services), Medicine, Gastroenterology (Medical), Nephrology, Obstetrics & Gynecology, Orthopaedic Surgery, Pharmacology, Radio-Diagnosis, Radiotherapy, Surgery, Urology, Endocrinology, ENT, Forensic Medicine, Geriatric Medicine, Neurosurgery, Pediatrics, Pediatric surgery and Transfusion Medicine.
For more details about Faculty Post Qualification, Age and Pay Allowance click on the given link:
https://medicaljob.in/jobs.php?post_type=&job_tags=jipmer+punducherry+job&location=&job_sector=all
General Conditions:
1. The Jawaharlal Institute of Postgraduate Medical Education & Research is an autonomous body established under the Act of Parliament.
2. Service under the Institute is governed by that Act and the Rules & Regulations framed thereunder.
3. All the posts carry usual allowances as admissible to Central Government Employees as per Govt. of India from time to time.
4. Canvassing of any kind will lead to disqualification.
5. Last Date for receipt of filled in the application will be on or before 30.08.2019 (Friday) till 04.30 PM.
6. As per the approval of the competent authority, in case suitable candidates with required experience are not available for the post of Professor in various disciplines mentioned above, the same may be operated at the level of Additional Professor in Level 13A2 ( 148200- 211400 ) as per 7th CPC and other allowances as admissible + NPA (NPA applicable only to Medical candidates). Persons, who are eligible for consideration for appointment to the post of Additional Professor only, may submit their application in the prescribed form downloaded from the website along with all the necessary documents with clear superscription on the envelope that the Application is for the post of Additional Professor with the following qualification & experience for the same:
Qualification & experience for the post of Additional Professor in various disciplines' mentioned above:
Essential Qualifications: Same as Professor in the respective discipline mentioned above.
Experience:- Ten years teaching and, or research experience in the discipline or subject concerned after obtaining the Postgraduate qualification or Doctorate.
Age Limit: Not exceeding 58 years as on closing date.
7. The crucial date for Age limit and experience will be the last date of receipt of application i.e. 30.08.2019 (Friday)
8. The persons belonging to SC/ST/OBC/Physically Handicapped persons must submit the certificate in the requisite proforma duly issued by the authority concerned.
9. While forwarding the application through proper channel, a certificate to the effect that Central Government / State Government / Union Territory or the parent Department/Organizations has "No Objection" to the appointment of officer concerned may also be sent to this Institute along with the application (As prescribed in the format – Annexure- D)
10. Application for the post shall be in the prescribed proforma available in the JIPMER website (www.jipmer.edu.in).
11. Only Indian Nationals are eligible to apply. The Institute reserves the right to decide the number of posts to be filled up.
12. Application incomplete in any respect or received after due date i.e. 30.08.2019 (Friday) or without application fee will be summarily rejected. The Institute will not be responsible for any postal delays and no correspondence in this regard will be entertained.
13. Selection for the post of Professor & Assistant Professor will be held by conducting an interview, for which date and time will be intimated to the eligible candidates by email only and the same will be published in the JIPMER website also (www.jipmer.edu.in). No communication would be sent by post. Page 19 of 23
14. The prescribed qualification is minimum and mere possessing the same does not entitle any candidate for selection.
15. The appointment is full time and private practice of any type is prohibited.
16. The waitlist/reserve list to be operated only if the selected candidate either does not join thereby causing a replacement vacancy or joins but resigns or dies within one year of joining.
17. A completed application should have the following documents invariably sent along with the application.
1. Application form
2. Brief of the Candidates (Annexure – II)
3. Filled Power Point Presentation (Annexure – III)
4. Mark sheets and degrees Certificates
5. Registration Certificates
6. Proof of Age
7. Caste Certificate ST/SC/OBC/EWSs (In the prescribed format as per GoI norms) (If applicable)
8. Experience Certificates
9. NOC (No Objection Certificate) for those Candidates who are working in Govt. Organization (if applicable)
10. Any other relevant documents.
Medical Dialogues Bureau consists of a team of passionate medical/scientific writers, led by doctors and healthcare researchers.  Our team efforts to bring you updated and timely news about the important happenings of the medical and healthcare sector. Our editorial team can be reached at editorial@medicaldialogues.in. Check out more about our bureau/team here
0 comment(s) on Job Alert: JIPMER Puducherry releases 41 vacancies for Faculty Posts, Details
................................ Advertisement ................................