Job Alert: NIRT announces 09 vacancies for Consultant Post, Details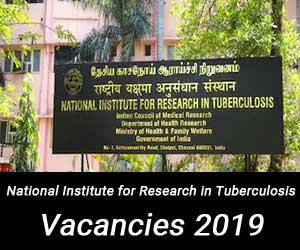 New Delhi: The National Institute for Research in Tuberculosis, Chennai (NIRT Chennai) has announced a notification for 09 vacancies for the Consultant (Medical) post on Contractual Basis. The Selection will be made on the basis of Walk-in-Interview.
Tuberculosis Prevalence Survey is a time-bound activity and is crucial for TB Elimination in India. It is planned to be undertaken on mission mode. NIRT has been embarking upon prevalence survey of Tuberculosis across the country expeditiously. To undertake this activity effectively and on a time-bound manner, candidates having high level of commitment and dedication to work mainly towards monitoring and intermittent fieldwork throughout the country in various States/UTs are invited. Preference will be given to those having work experience in National Health Surveys/ similar activities. These activities are being carried out through an ad-hoc research project of ICMR titled "National survey for state-wise prevalence of microbiologically confirmed pulmonary tuberculosis in India".
Walk-in-Interview:
Candidates are invited to attend for a Walk-In-Interview for the post of Consultant (Medical) under the above-mentioned project at the following venues against the date and time mentioned therein: 
Venue: National Institute for Research in Tuberculosis (ICMR-NIRT), No. 1, Sathyamoorthy Road, Opp. FCI, Chetpet, Chennai-600031 
Date: 24/05/2019 (Friday), Reporting Time: 10:00 a.m. 
Attend SKYPE INTERVIEW online at ICMR-NIRT, Chetpet, Chennai 
Date: 24/05/2019 (Friday), Time: between 11:00 a.m – 2:00 p.m.
Last Date to apply: 20-05-2019.
Total no. of vacancy: 09
For more details about Consultant (Medical) Recruitment click on the given link:
MBBS degree with 4 years' experience.
Post Graduate Diploma in medical subjects after MBBS with 2 years' experience.
Post Graduate Degree(MD/MS/DNB)after MBBS with one year experience.
Desirable Qualification & Experience:
1. Doctorate or MD or Master degree in the relevant subject (Community Medicine/ Preventive & Social Medicine/ Pediatrics/ Medicine/ Tropical Medicine/ Community Health Administration/Health Administration/ Family Medicine/ Epidemiology/ Public Health) from a recognized university.
2. Additional Post-doctoral research/teaching experience in relevant subjects in recognized institute(s).
3. Knowledge of Computer Applications or Business Intelligence tools /Data Management.
4. Minimum one-year experience in RNTCP.
Emoluments

: 

Rs 70,000 P.M
Instructions to the Candidates:
1. Bring the filled in application with one set of photocopy of qualification and experience documents.
2. Candidate should submit all certificates/testimonials in original for verification. Candidates who fail to bring the Original Certificates for written test / Interview will not be considered.
3. Experience certificate should clearly state the nature of work during the period of employment.
4. No- Objection Certificate from the current employer (for Govt./AB/PSU Servants only).
5. All posts are Contractual for the duration offered. The appointment may be renewed after every specific period of time subject to satisfactory performance and project requirement.
6. The incumbents selected will have no claim for regular appointments under NIRT/ICMR or continuation of his/her services in any other project.
7. TA/DA will not be paid by NIRT for attending the written test/ interview.
8. The Director, ICMR-NIRT reserves the right to increase or decrease the number of posts or cancel the recruitment or re-advertise the posts, without assigning any reasons thereof, no further correspondence will be entertained in this regard.
9. Any further information may be downloaded from ICMR-NIRT and ICMR-NARI website which will be updated from time to time.
10. Date of Walk-in-Interview may be changed due to administrative reasons, hence, candidates are advised to check website before appearing Walk-in-Interview.
The Director/Selection Committee has the right to accept/reject any application without assigning any reason thereof and no recommendation in this matter will be entertained.
Canvassing and bringing pressure in any form for shortlisting, interview and employment will be a disqualification and barred from selection process.
Job Description:
1. Get trained in Protocol of National TB Prevalence Survey, India as well as SOPs and training manuals.
2. Assist the Survey Project Management Unit in training & sensitizations of various stakeholders at various levels as well, as other preparatory activities for the survey.
3. Coordinate with Survey Team and local RNTCP team in identification & establishing survey site for each cluster.
4. Review and report all chest X-Ray images are for any abnormality as per survey protocol and SOP in time bound manner.
5. Identify other medical conditions as well as the triage by coordinating with the local health facilities as well as referral to higher centers as and when necessary.
6. Establishing coordination and support from local health facilities and authorities for survey activities.
7. Any other job as assigned by PI.
How to Apply

:
Candidates are invited to attend for a Walk-In-Interview for the post of Scientist C (Medical) and Consultant (Medical) under the above-mentioned project at the following venues against the date and time mentioned therein:
The willing and eligible candidates are requested to mail their curriculum vitae or resume along with a filled application form and educational qualifications, proof of age, caste, experience, etc. in the prescribed format (downloadable from the website www.nirt.res.in ) along with skype id addressed to the Director, ICMR-NIRT, Chennai to the e-mail id scicnatbps@gmail.com on or before 20/05/2019. Please note that the selected candidates will have to work in any parts of the country as per the direction of P.I. However, the candidates may please give their willingness to work in respective States of choice which will also be considered.
For more details click on the original website given below.