APSC releases Vacancies For Insurance Medical Officer Post, Apply Now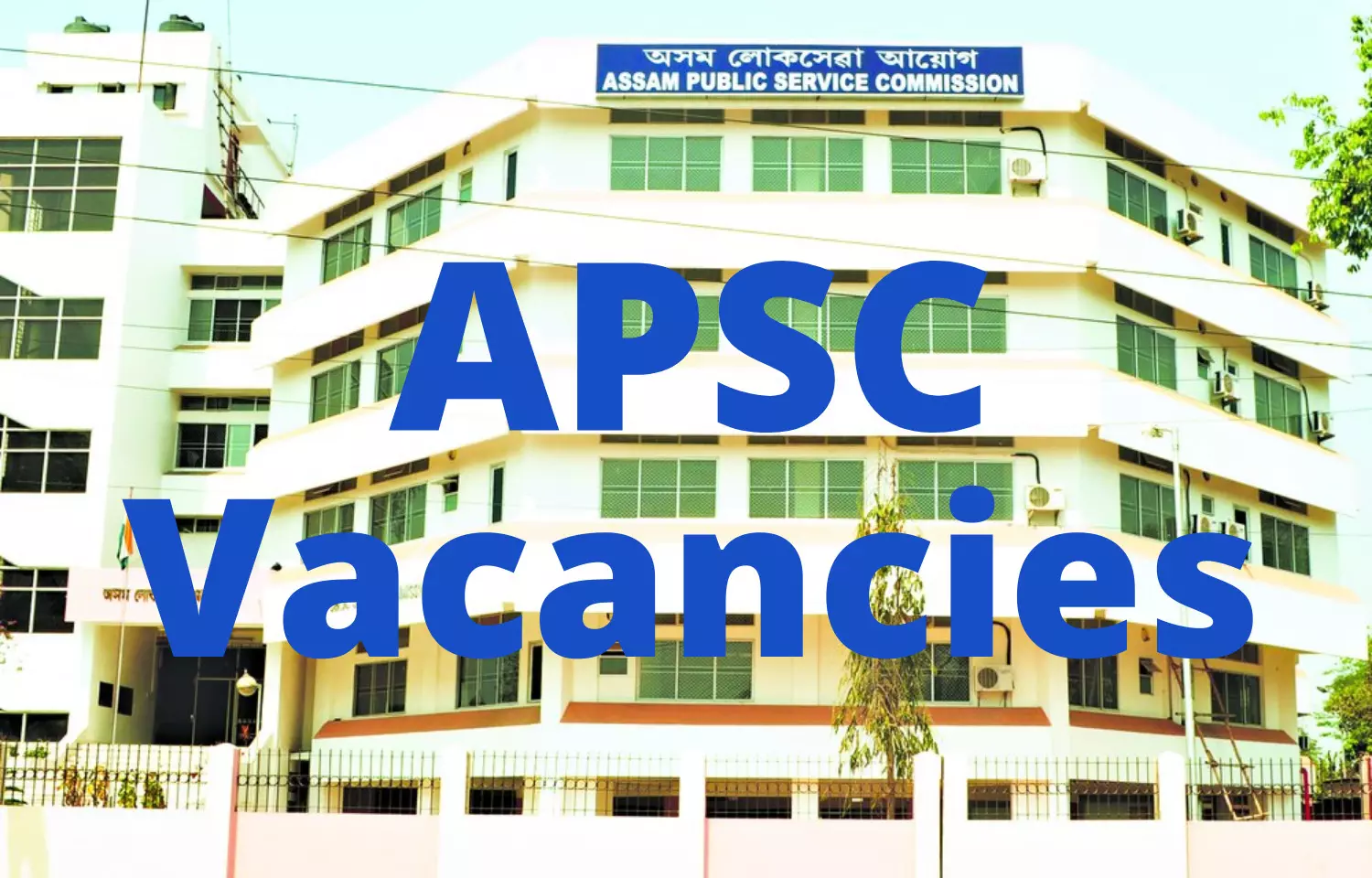 Guwahati: The Assam Public Service Commission (APSC) invited online applications for the post of Insurance Medical Officer on Direct Recruitment basis.
APSC is a state recruitment agency authorized to conduct civil service examination for the state of Assam headquartered at Jawahar Nagar, Khanapara in Guwahati and functions through its own secretariat. It was established on 1 April 1937 As of February 2021, Shri Rajiv Kumar Bora, IAS (Retd.) is its current Chairman.
Vacancy Details:
Total No. of Vacancies - 15
Last Date of Application: 24th October 2021.
For more details about Qualification, Age, and Pay Allowance, and much more, click on the given link:
https://medicaljob.in/jobs.php?post_type=&job_tags=apsc+vacancies&location=&job_sector=all
How To Apply?
1. Applicants are required to apply online through APSC's recruitment website. No other means/ mode of application will be accepted and the Application will be summarily rejected.
2. Applicants who have not registered yet, in the Online Recruitment Portal of APSC are first required to go to the APSC's recruitment website https://apscrecruitment.in and register themselves by clicking on the 'Register Here link and complete the user registration process by providing basic details.
3. CANDIDATES ARE ADVISED TO REGISTER WITH VALID AND ACTIVE E-MAIL ADDRESSES IN THE ONLINE APPLICATION. INTERVIEW SCHEDULE AND REQUIREMENTS WITH REGARD TO COPIES OF CERTIFICATES TO BE SUBMITTED IN RESPECT OF CLAIMS MADE IN THE ONLINE APPLICATION, WILL BE INTIMATED TO THE CANDIDATES THROUGH THE WEBSITE OF THE COMMISSION IN DUE COURSE OF TIME.
4. After creating an account, applicants need to log in with the credentials.
5. After login, applicants need to provide One Time Registration details such as Personal Information, Educational Qualification, Work Experience, Photo (Min size-20 KB & Max size-200 KB and not older than 3 months) & Signature (Min size-20 KB & Max size-200 KB) and other required documents. Once these details are submitted, applicants will be able to download the Time Registration details. Then applicants can click on Home->Dashboard and see the live advertisements of APSC in 'Apply Section'. Please note that One Time Registration details need to be provided only once.
6. The applicants are advised to read the eligibility criteria and other relevant details carefully before applying for the advertisement. Mandatory fields in the online form are marked with * (asterisk) sign.
7. Candidates must submit the details of documents like Certificate No., Issue date, Issuing authority and upload the documents/certificates (whenever asked for) in support of the claims made by them in the Application Form like Date of Birth, Experience, Qualification(s), etc. or any other information, in pdf file in such a way that the file size does not exceed 200 KB and is legible when a printout is taken. For that purpose, the applicant may scan the documents/certificates on a 200 dpi greyscale.
8. Document details submitted in the online application form will be verified at the time of the Personal Viva-Voce Interview.
9. Applicants should carefully fill in all the information as asked in the application form and click on the declarations checkbox to enable the 'Preview' button before final submission.
10. Applicants must ensure all relevant fields in the application are filled in correctly before final submission since editing after final submission will not be allowed.
11. After previewing the details filled in by the applicant he/she can either click 'Submit' for final submission or click the 'Cancel' button for necessary corrections before final submission of the Application Form.
12. On completion of form submission applicant has to pay the application fee along with the processing fee as applicable.
13. Application fee once paid by the applicant will not be refunded.
14. In case of failure of the payment applicant should click on the button 'Validate Payment' to verify the payment from bank. In instances of double debit i.e. amount debited twice for the same transaction, the bank will automatically refund the fee to the applicant within 5-7 working days.
15. On successful completion of your complete application, an auto-generated email message will be sent on your registered email-id.
16. Applicant's application will not be considered if the fee is not paid for that application.
17. Applicant may also fill their online form through Common Service Centers. Applicants without debit card/Internet banking may visit nearest CSCs.
18. Candidates with less than 40% disability will not be considered for any relaxation which is applicable to Persons with benchmark disability candidates.
19. The applicants are advised to submit only a single Online Recruitment Application for each post; however, if somehow, if he/she submits multiple Online Recruitment Applications for one post, then he/she must ensure that Online Recruitment Application with the higher "Application Number" is complete in all respects including fee. Fee paid against one "Application Number" shall not be adjusted against any other "Application Number".
20. Candidates who wish to apply for more than one post should apply separately for each post and pay the fee for each post in the prescribed manner.
21. After submitting the Online Application, the candidates are required to take out a printout of the finally submitted Online Recruitment Application and retain the hardcopy of the Online Application Form.
22. The candidates are advised to submit the Online Recruitment Application well in advance without waiting for the closing date.
23. For any payment-related issues, one can reach the following helpdesk numbers – GRAS Helpline (Telephonic):1800-212-11-88-66 (From 10:00 AM to 6:00 PM on all working days) GRAS Helpdesk- https://assamegras.gov.in/helpdesk/1.Click 'Submit a ticket' Click 'Payment Related' 2. Fill in your payment-related details. Click 'Submit ticket' Bank - For any bank-related issue, we suggest applicants to contact their respective bank branches.
24. For any other issues related to the online application form you can contact the following- email: cceapsc@gmail.com Contact No: 1800-572-23-43 (From 10:00 AM to 5:00 PM on all working days.)