PGI Chandigarh Releases 64 Vacancies For Faculty Posts In Various Specialities, Apply Now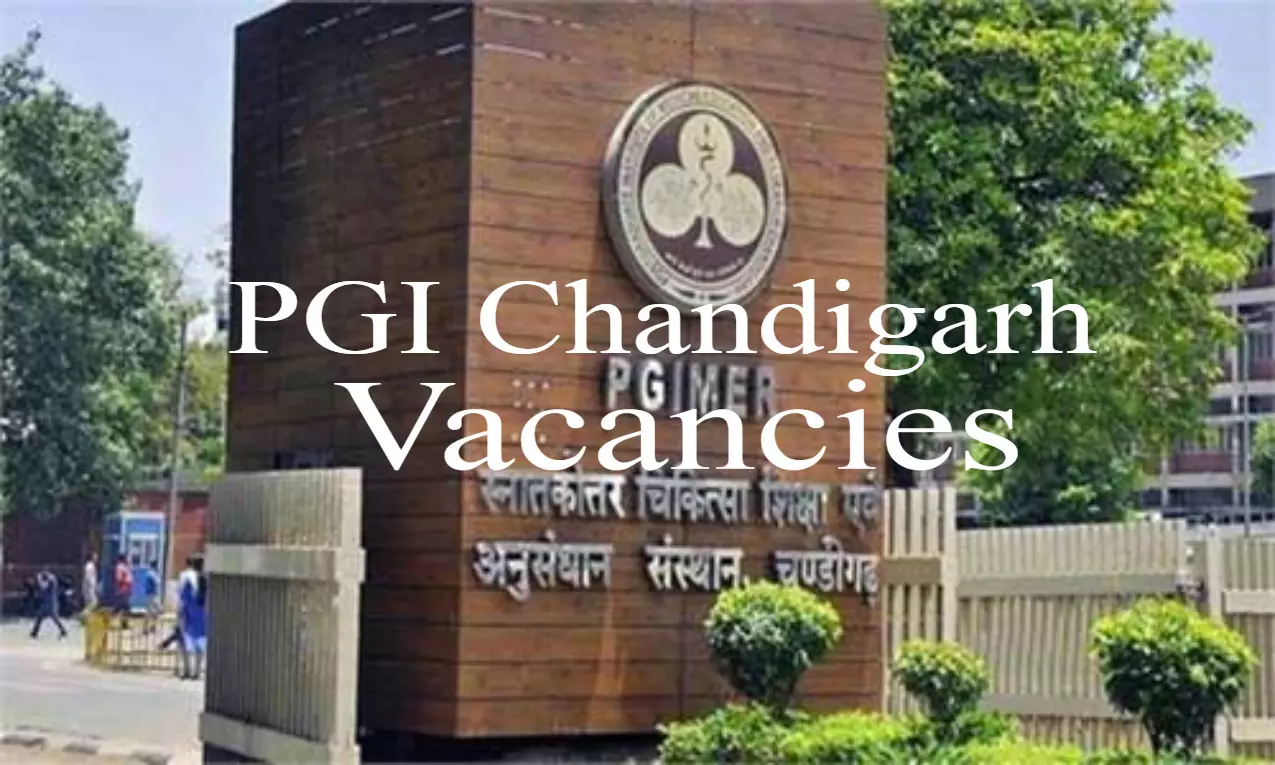 Chandigarh: The Post Graduate Institute of Medical Education and Research, Chandigarh (PGI Chandigarh) has released 64 Vacancies for the post of Assistant Professor in Various Specialities. The candidates will be selected based on interview.
PGI Chandigarh was conceived in 1960 as a center of excellence which would endeavor to develop patterns of teaching in postgraduate medical education in as many branches as possible and attempt to produce specialists in several disciplines of medicine.
Vacancy Details:
Total No of Vacancies: 64
The Vacancies are in the Department of- Anaesthesia, CTVS, Cardiology, Endocrinology, ENT, Gastroenterology, GE(Paediatrics), General Surgery, Haematology, Hepatology, Internal Medicine, Emergency, Nephrology, Neurology, Nuclear Medicine, Obstetrics & Gynaecology, Ophthalmology, Orthopaedics, Pediatrics (Haematology & Oncology), Paediatrics (Emergency & ICU), Psychiatry, Pulmonary Medicine, Plastic Surgery, Radio-diagnosis, Renal Transplant Surgery, Transfusion Medicine, Urology, and Urology (Anaesthesia).
Last Date of Application: 17th October 2020.
For more details about Qualification, Age, and Pay Allowance, and much more, click on the given link:
https://medicaljob.in/jobs.php?post_type=&job_tags=PGI+Vacancies&location=&job_sector=all
NOTE:
1. Those candidates who have already applied in response to advertisement No. PGI/RC/2019/014/5358 dated 16.12.2019, addendum dated 04.01.2020 and advt. No. PGI/RC/2020/015/992 dated 26.02.2020 not need to apply afresh.
2. The candidates who have applied earlier but their applications have been rejected vide Notice No. PGI/RC/2019/014/5358 dated 16.12.2019 due to late receipt, need not apply again.
3. However, the crucial date for determine eligibility w.r.t. essential qualification and experience shall be the closing date of this advertisement i.e. 17.10.2020. As such the candidates who have already applied may directly submit their updated information, if any, regarding the qualification and experience by mentioning the application No. and the name of the department concerned in the Recruitment Cell, PGIMER, Chandigarh.
What are the General Instructions?
(i) The Challan form of application form will be available on the PGI website from 17.09.2020 to 07.10.2020 (23:59 hours) after which the link will be disabled.
(ii) The last date of deposit of application fee in the Bank is 12.10.2020.
(iii) The last date of receipt of offline applications (hard copy) in the Recruitment Cell is 17.10.2020 till 01:00 P.M.
(iv) Candidates should ensure that they fulfill the eligibility criteria for the above-noted posts. Candidates are required to download the application form and apply it through the Institute website www.pgimer.edu.in. The candidates should have a valid e-mail ID and Mobile No. which should be kept active during the recruitment process as the Call Letter & other information will be given to them through email/SMS only.
(v) Helpline Desks: 0172-2755587 from 0900-1700 hours on working days.
(vi) The above vacancies are provisional and subject to variation. The competent authority reserves the right to vary the number of vacancies including reserved vacancies as per Govt. of India rules/circulars and the reservation will be followed as per Government of India rules.