Walk In Interview: ESIC Hospital Indore Releases Vacancies For Senior Resident, Specialist, Super Specialist Posts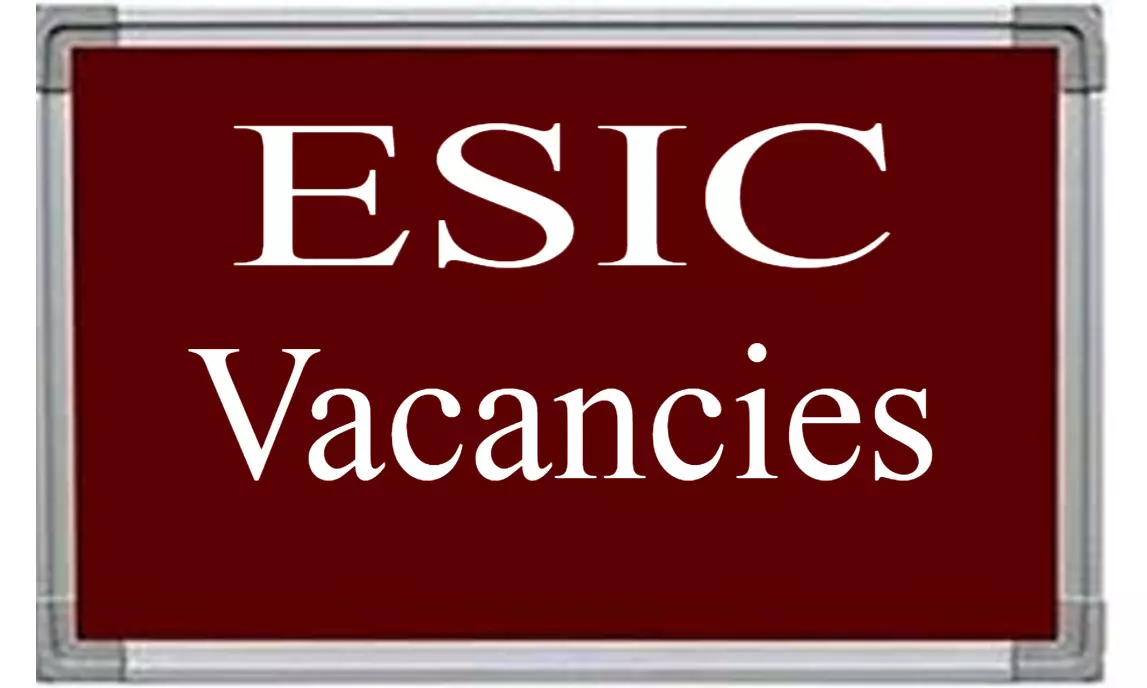 Indore: The Employees State Insurance Corporation (ESIC Model Hospital Indore) has released 51 Vacancies for Full Time /Part Time Specialist, Senior Resident, and Part Time Super Specialist Posts. The Selection will be done on the basis of Walk in interview.
ESIC Model Hospital in Indore is one of the well-known Hospitals in Nanda Nagar. ESIC Act, 1948 (ESI Act), by the Parliament was the first major legislation on social Security for workers in independent India. It was a time when the industry was still in a nascent stage and the country was heavily dependent on an assortment of imported goods from the developed or fast-developing countries. The deployment of manpower in manufacturing processes was limited to a few select industries such as jute, textile, chemicals, etc.
Vacancy Details:
Total no of vacancies: 51
Senior Resident - 35
The vacancies are in the Department of - Obstetrics & Gynaecology, Orthopaedics, Surgery, Paediatrics, General Medicine, Pathology, Microbiology, Dermatology, Bio-Chemistry, Radiology, Anaesthesia, ENT, Casualty, Ophthalmology, and Pulmonary.
Full Time/Part Time - Specialist - 14
The vacancies are in the Department of - Obstetrics & Gynaecology, Orthopaedics, General Medicine, Pathology, Dermatology, Radiology, Anaesthesia, ENT, Ophthalmology, and TB Chest.
Part-Time Super Specialist - 02
The vacancies are in the Department of - Cardiology, and Oncologist.
Date of Walk-in-Interview: 5th and 6th January 2021.
For more details about Qualification, Age, and Pay Allowance and much more, click on the given link:
https://medicaljob.in/jobs.php?post_type=&job_tags=ESIC+indore+Jobs&location=&job_sector=all
How to Apply?
1.The eligible and desirous doctors fulfilling the educational qualifications/eligibility conditions should submit their applications(as per Annexure-'A') along with one set of self-attested copies of relevant documents in support of age, qualifications, attempt certificate, Mark-sheet, Degree, MCI, or State Registration(s), EWS/SC/ST/OBC certificate & experience certificate, etc. and 2(two) recent passport size photographs. The candidate who is currently in employment must bring an experience certificate (working certificate) and No Objection Certificate (NOC) from the present employer, failing which his/her candidature will be liable to rejection.
2.The interview(s) scheduled on 29-12-2020 & 30-12-2020 from 9.30 am onwards (after the scrutiny of applications on the same date, the eligible candidate's interview will only be taken). In case of any unfulfilled vacancy after the scheduled date of interview, the Interview will be conducted on every Wednesday ( next Wednesday in case of holiday on Wednesday). Applicants are advised to refer to the hospital websites www.esichospitals.qov.in for confirmation of unfulfilled vacancy position from time to time
3. Aspirants possessing qualifications only with registration as on the date of the interview will only be considered; those whose result is awaited will not be considered.