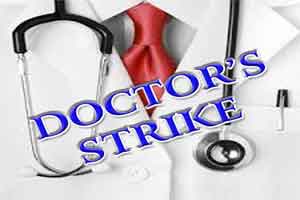 Patients needing admission were turned away from R.G. Kar Medical College and Hospital here on Monday as a section of its junior doctors continued their strike for the second day.
The doctors have been agitating and struck work after relatives of a patient who died at the state-run hospital early morning on Sunday allegedly assaulted the night-shift team around 5 am in the morning.
At least 300-odd interns, house staff and post-graduate trainees stayed away from duty which hit medical services both in the emergency section and the indoor wards.
"We want better security and will continue our strike until our demands are met," an angry intern said.
The striking doctors held a meeting and a rally on the campus, saying "No security, no service".
The doctors are penned down their demands as follows:-
Urgent Arrest of people responsible for the acts of violence
Posting of adequate strength of security/police personnel at ALL Emergency Points, including the Casualty Block OT
Restriction of party per patient into C.B.O.T, General E.R,  Gynaecology E.R and other emergency rooms.
Action against the on-duty police officer for severe non-cooperation and delay in receiving FIR.
Immediate effect about lack of facilities in the form of enough trolleys, adequate lighting, number of beds and instruments to cater to the patient load i the casualty block – for which  THE JUNIOR DOCTORS are questioned held accountable and often manhandled and injured by unreasonable and rowdy patients.
0 comment(s) on Kolkata :No security, No Service at RG Kar Medical College and hospital