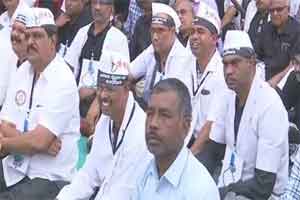 Karnataka: Protesting against the Clinical Establishment Bill amendment, more than 50,000 private doctors came together to show their anguish and disapproval of the government's new bill that is designed to regulate the functioning of the private healthcare sector in the state. A While majority of doctors stayed away from OPDs, doctors were also seen gathering in large number at Belagavi to participate in the hunger strike.
Under the Belagavi Chalo movement,  around 25000 doctors organized a hunger Strike at epecially erected pandal near the Suvarna Vidhana Soundha, where the winter session of the State Legislature. In response, The Belagavi district administration clamped prohibitory orders under Section 144 of Criminal Procedure Code and banned demonstrations within a radius of one kilometre from the Suvarna Vidhana Soudha.
"We are staging the demo to draw the attention of the government and the MLAs against the amendment bill which has anti-doctor and anti-patient provisions that will endanger private healthcare," Veeranna.
As the day unfolded, The Chief Minister Siddaramaiah finally met a delegation of striking doctors asking them that the bill has not yet been finalised and that doctors should call off the protest. The minister also promised another round of consultation will take place before the bill is presented in the assembly reports the quint.
The doctors while thanking the minister implied that verbal assurances were not enough and they are not going to stop till the  state government came forward with concrete steps to address the demands,
"While the government has given a positive response for most of our demands, there was a disagreement over the grievance redressal committee, because of which we will continue to protest," Dr HS Ravindra president IMA Karnataka told the Quint.
The striking doctors are adamant demanding the government to drop the stringent provisions in the Karnataka Private Medical Establishment Bill, 2017 including capping prices for services, jail term and hefty penalty for erring doctors . According to an amendment, the bill empowers the government to fix rates for procedures in private hospitals, set up grievance redressal cells, prohibit any additional charges and any advance payment in case of an emergency. Moreover, if the private medical establishments collect more charges than that fixed by the state government, the government can impose a penalty of not less than Rs 25,000 which may extend to Rs 5 lakh and imprisonment not less than six months which may be extended to three years.
6 comment(s) on Karnataka: 50,000 private doctors stay away from work, IMA to continue hunger strike