Karnataka: 7-yr old with needle stuck in buttocks undergoes surgery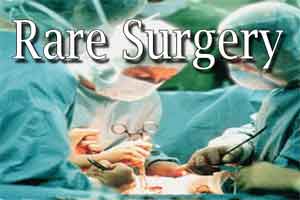 Karnataka: Shimoga Institute of Medical Sciences (SIMS) recently operated a 7-yr old girl with a hypodermic needle in her buttocks.
The girl Kusuma had gone to a doctor for her fever treatment earlier on March 01. However when she returned home she had the needle stuck inside the tender muscle of her buttocks. She was then required to undergo a 2-hr surgery at SIMS. The needle has now been removed and she is slowly recovering.
The nurse had reportedly administered an injection on Kusuma after the doctor suggested to give her (Kusuma) an injection for fever. However, when back home Kusuma complaint of a pain in her buttocks which was severe. So, her parents took her to the same doctor again and it was only later revealed during an X-ray that the injection needle was insider her buttocks.
More shocking is the fact that upon removal it was discovered (as it appeared) that the whole needle was inside her buttocks; not just a portion of it which could have been broken while injecting. Nurse had absolutely no clue on the incident.
As reported by
Bangalore Mirror
, enraged over the entire incident, the parents filed a police complaint against the hospital for negligence. Then the child was taken to the SIMS.
"The surgery which began at 9 am finally ended at 11.30 am. Locating a needle was not an easy job for us," SIMS director Dr BV Sushil Kumar said.
Five surgeons removed the needle using a mobile C-arm (a medical imaging device based on X-ray technology and connects X-ray source to an X-ray detector). "Due to the girl's frequent movement, the needle had moved towards her spine. She suffered a lot of pain because of it," Dr Kumar added.