Karnataka: Doctor Assaulted, abducted after patient death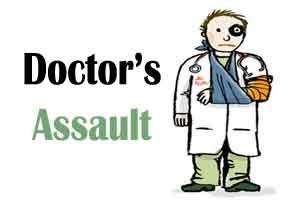 Karnataka: In yet another incidence of violence being reported from a hospital, a mob of 40 people not only assaulted an assistant professor, two PG students and a nurse, but also tried to abduct the senior doctor, by dragging him away from the college.

The incident was reported from Yenepoya Medical College and Hospital in Deralakatte following the death of a 65 year old patient, a known case of IHD who came to emergency with extensive cellulitis and in shock. Unfortunately, despite all efforts, which included ventillatory support for around 3 hours, the patient passed away.

Soon after the death, the mob that gathered in their rage  and  began assaulting, Dr Abhijit Shetty, an Assistant Professor at the Yenepoya Medical College. When two PG students and a nursing staff tried to intervene, even they were assaulted.

"They were beating Dr Abhijit brutally while dragging him from the sixth floor of the hospital all the way down to the main gate. A nurse, who tried to stop these people, was also beaten and pushed away,"the official told TNM.

After dragging the doctor all the way to the main gate, the mob allegedly shoved Dr Abhijit into a van and drove away.

While he was abducted in the van, his colleague doctors chased them 8 kms down all the way till Ullal, and  cornered them. With help of police, Dr. Abhijit was rescued, three of the abductors arrested immediately, though driver escaped in vehicle of crime.

With about 15-20 senior Doctors gathering immediately in police station - including HOD Dr. Moosabba & other senior professors, an FIR was lodged in at 3.30 am.

Patient body has been sent for MLC post mortem,

It is reported that the abducted Doctor has no major injuries as of now, though his gold chain and watch have been stolen by the mob.