Doctor Challenges validity of KPME Act in Court; Govt, MCI, IMA get notices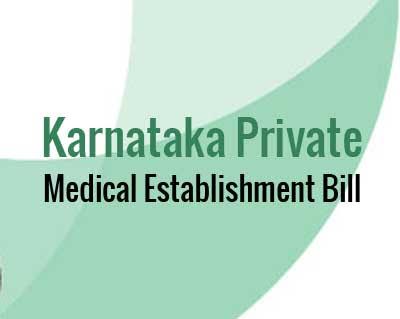 BENGALURU
: The controversial Karnataka Private Medical Establishment Amendment Act (KPME Act) has fallen once again into a controversy after a doctor from Puttur approached the Karnataka High Court demanding  the inclusion of government doctors under the Karnataka Private Medical Establishment Amendment Act.
The New Indian Express
reports that the petitioner, Dr K Raviprakash, has questioned who stated that the said amendment was brought only to concentrate on private doctors, despite knowing that the law is uniform.
KPME Bill was introduced by the state government last year, and proposed many controversial clauses including six months to three years jail term and hefty penalty for medical negligence on the part of doctors.
It also provides for emergency treatment as per the need without insisting on payment of advance from patient or representative of the patient in specified cases and enhancing certain monetary penalties leviable under certain sections.
The bill had met with immediate protest from the medical fraternity, whose strike paralysed medical services in private hospitals and nursing homes in the state.
Finally,  a diluted version of the controversial medical bill to regulate private health care was passed by a voice vote in the Karnataka Assembly after dropping a jail-term clause for doctors.
Read Also: Finally, KPME bill passed sans controversial clauses
Now stating the amendment being discriminatory, the doctor  has asserted that the Criminal Procedure Code and IPC do not make a distinction between a private medical establishment, a government establishment or public facility which have the same duty towards the victims.
Hindu quotes the petition as stating "The KPME Act is seeped with errors and is a product of legislation without competence,"  and the petitioner termed the Act "discriminatory" as it excludes State-owned hospitals from its purview.  It also pointed out that the Justice Vikramajit Sen committee, which was constituted by the State government to look into and evaluate the need for taking legislative measures to control and manage hospitals, had recommended inclusion of both the State-owned and private hospitals under the enactment.
Responding to the petition Justice Vineet Kothari ordered notice to the State Government, Medical Council of India(MCI), president of Indian Medical Association of Karnataka.