Karnataka Luxury tax issue: Govt to withdraw order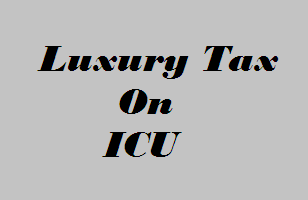 Banglore: Just a few days after increasing the ambit of luxury taxes in hospitals to ICU beds, government seems to be backtracking from its decision, after seeing objection from all ends.
Read Also: 
Karnataka: Luxury Tax on ICU admissions from now on
The decision of the government to levy luxury taxes on ICUs had met with strong disapproval from the medical fraternity and the general public alike. "People get admitted in the ICU as a matter of necessity and in search of critical care, not for obtaining luxuries", a doctor had pointed out. The department of commercial taxes had earlier begun to levy taxes on the deluxe and super-deluxe rooms of private hospitals, on account of additional facilities like TV, air-conditioning, telephone,etc and soon had extended the ambit of taxation to ICU beds applying similar logic.
This move had met with strong disdain from doctors and patients alike, who had unanimously said, that this would add to the financial burden and misery of the patients who don't get admitted in ICU of a hospital by sheer will and choice but due to necessity.  The issue went viral over social media and the government began facing brickbats online for equating admission to ICU with a stay in a
resort
. Here are a few twitter responses:-
As reported by Banglore Mirror, An angry chief minister Siddaramaiah on Tuesday afternoon summoned a meeting of officials from the commercial taxes department and verbally instructed them to cancel the order on the grounds that it was against public sentiments.
According to sources in the chief minister's office (CMO), Siddaramaiah lost his cool for not having been kept in the loop about such an order and also about the representations made against it by a few city hospitals.
"When we got to know,officers imposed luxury tax on ICU acc to their rules,we immediately askd them to reconsider"-Karnataka Health Min UT Khader said.He informed
NDTV
that "The official notification will take time, but the tax will not be imposed"