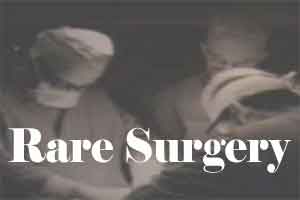 Karnataka: A 18-month old toddler was suffering with a tumor near the spinal cord, as a result of which her legs had weakened and she was not able to walk. However, after undergoing a rare tumor surgery at government-run Vijayanagar Institute of Medical Science (VIMS) she is reportedly out of any danger. In other words, she has been granted a new lease of life.
Dr. S. Vishwanath, neuro-surgeon, along with the team performed a rare microscopic spinal surgery on her. Had the tumor not been removed in time, it could have led to a permanent disability in the girl. The surgery is reported to have lasted for four hours.
The case was brought to the hospital after the girl's parents observed that the child was unable to walk for the past three months. Worried, they approached the paediatrics department at VIMS. Dr. Gaddi Diwakar examined the case and after diagnosing the tomor referred the case further to Dr. Vishwanath.
Dr. Vishwanath in his statement has also implied that this case was very peculiar and challenging for him. It was a kind of medical research for him and his team. There has been no earlier record of such surgery performed on toddlers.
"The case was a rare one and very complicated too. The back of the girl was cut open up to five centimetres to remove the tumour without causing any damage to the spinal cord and other nerves. Sanjana was able to move her legs and also walked within a span of 72 hours after the surgery," Dr. Vishwanath told The Hindu.
VIMS Director Srinivas, Principal Vidyadhar Kinhal, and Hospital Superintendent V. Srinivasulu have lauded the medical team.
0 comment(s) on Karnataka: Rare tumor surgery on toddler performed at VIMS