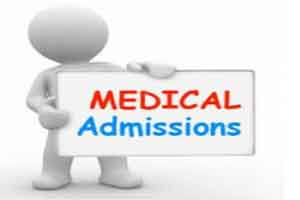 With three new medical colleges to open in Karnataka in the next academic year, the state is expected to offer 450 more medical seats under the government quota.
The total number of government medical collages in Karnataka will be up to 16 now. At present, the  government offers 2,489 seats for undergraduate courses, which is likely to be 2,939 this coming year.
Three new medical colleges will start operating at Chamarajanagar, Karwar and Madikeri (Kodagu). The older colleges are located in  Bengaluru, Mysuru, Hubballi and Ballari. Colleges were also started in Hassan, Mandya, Shivamogga, Bidar, Raichur and Belagavi six years back.
As implied in a statement by Dr S S Harasoor, Director of the Medical Education Department, the MCI has completed the inspection of these three new colleges. Each college has a capacity to accommodate 150 students. The buildings, staff and the infrastructure are also reported to be ready.
As reported by Express, "Six new medical colleges were to be added in 2015-16 but because of some infrastructure issues, the MCI did not give its approval. We started only three, in Kalaburagi, Gadag and Koppal. The other three will become functional in 2016-17," explained Harasoor.
However, according to a source at the Karnataka Examinations Authority (KEA), all 2,939 seats may not be open. "Last year, though we had three new medical colleges and additional seats, we lost 1,250 seats in the first round of counselling after the MCI refused to renew recognition of 10 colleges," an official said.
More Docs
The number of seats under the government quota is steadily going up. Following has been the developments:-
2013: 2,215
2014: 2,387
2015: 2,489
2016: 2,939 (anticipated)
0 comment(s) on Karnataka to offer 450 more medical seats