Karnataka to offer Rs 1.25 lakh pm to Private Specialists to fill up temporary vacancies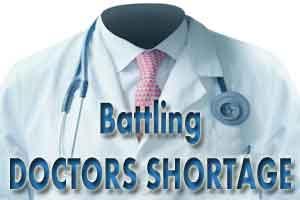 BENGALURU: Faced with a shortage of approximately 1100 specialists in the government hospitals in Karnataka, the government is soon going to resort to hiring private practitioners to fill up the the vacancies temporarily.
For the same, government has proposed to pay Rs 1.25 lakh per month to a specialist, who volunteers to work in government hospitals. If the doctor comes on a visit, he/she will be paid Rs 2000 for six-hour outpatient duty (OPD) per day reports TOI
It is reported that such hiring shall be need based and undertaken on temporary basis. The final decision making on the timing as well as person for hiring has been left to medical superintendent or doctor in charge of the government medical facility.
The move of the state government comes as a desperate measure to fill up the vacancies,which exist at all points of healthcare delivery including PHCs, CHCs as well as Taluk Hospitals. Currently, the state government is in need for 216 paediatricians, 217 anaesthetists, 174 gynaecologists, 94 general medicine practitioners, 63 general surgeons -posts for which have been lying vacant despite repeated advertisements.  Vacancies exist in almost all specialties including ENT, dentistry, Ophthalmology,etc, besides those mentioned above.
Highlighting the shortage of doctors, Health and family welfare minister K R Ramesh Kumar told TOI "Doctors aren't coming forward to work in government hospitals. Not all those shortlisted by the KPSC for recruitment came forward to work in government hospitals. We advertised for recruitment of 980 specialist doctors, but only 500 candidates appeared for the interview. Of them, not even hundred reported to work," s
The government, in the face of severe shortage is also resorting to strict measures to ensure the availability of specialists at its heath centres. Recently, the government issued list of  a list of 666 specialist doctors who are likely to face suspension, on account of the fact that they did not serve the mandatory rural service at government institutions. The government also is soon going to initiate action against doctors who indulge in private practice.
Read Also:  668 Doctors in Karnataka likely to lose license
"It's been observed that some specialist doctors working in CHCs live in nearby towns and run their own clinics, instead of turning up for hospital work. They get patients to visit their clinics instead of accessing the government facility. Such malpractice has to stop. We aren't asking anyone to make sacrifices, but medical professionals need to serve in government hospital."