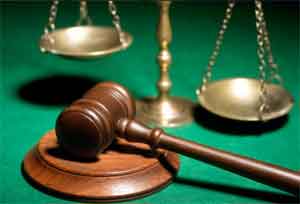 Jammu: Kathua Court on Tuesday denied bail to a lady doctor who conspired murderous attack on her husband.
Chief Judicial Magistrate Kathua A S Langeh rejected bail application of a doctor who is allegedly involved in a criminal conspiracy to eliminate her husband in cahoots with seven other accused.
During the investigation, four accused arrested by the police, who attacked lady doctor's husband, revealed that because of a strained relationship with her husband, petitioner Dr Nisha asked accused Joginder alias Happy who is an employee in her ultrasound centre to do away with her husband.
Subsequently, a criminal conspiracy was hatched which was allegedly masterminded by petitioner to eliminate her husband and occurrence took place.
The Court, however, observed that the petitioner devised a plot to eliminate her husband with seven co-accused persons.
0 comment(s) on Kathua Court denies bail to lady doctor for attack on husband