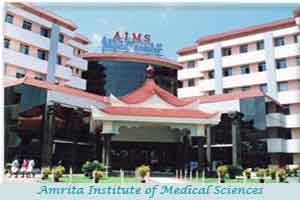 Kerala: Amrita Institute of Medical Sciences (AIMS) Kochi has recently performed a successful heart surgery-the Trans catheter aortic valve implantation (TAVI), on a 67-year old woman.
This non-surgical procedure, performed by a team led by Dr C V Rajiv, professor of cardiology, at AIMS is the first time a TAVI procedure has been performed in the state.
The reported cost of the valve is Rs 15 lakh, while the surgery cost Rs 1.5 lakh. AIMS is reported to have borne the entire cost for the patient, as she could not afford it.
The patient has reportedly suffered a heart failure for the second time, and hence, went a surgery which is an alternative to open surgery. Under the procedure, the doctors repaired the damaged heart valve without opening the chest.
TAVI, is clinically defined as a non-surgical procedure, and was applied to this patient as she is reported to have undergone a surgical replacement of the aortic valve with a bioprosthetic valve earlier. Though this surgery happened 11 years back, the patient was again diagnosed with severe obstruction of the tissue valve. Doctors also emphasized on the fact that she has diabetes and hypertension.
As reported by TOI, "With TAVI, there is no need to stop the heart through heart-lung bypass, or open the chest surgically. The chances of her developing complications with these procedures is drastically reduced because TAVI is a keyhole procedure. Moreover, it takes only 30-45 minutes for implantation of the new valve," said Dr C Rajiv, professor of cardiology, Amrita Institute of Medical Sciences (AIMS) Kochi, where the patient underwent the surgery. The surgery was a success and the patient has been discharged.
As reported by Express, TAVR uses a catheter to replace the heart valve instead of opening up the chest. In this case, a heart valve made of nitinol (a metal alloy of nickel and titanium ) and bovine pericardial tissue was squeezed into the catheter and placed between the already replaced heart valve of the patient.
TAVR has many advantages compared to open heart surgery as it is minimally invasive, on table extubation is possible and has no need for blood transfusion. Moreover, a patient can be discharged within six days of the procedure. But, the procedure is not without risks. Dr Rajiv says the success rate of the procedure is 90 per cent and is a risky procedure. Dr Rajiv and Dr Vijayakumar of the hospital had gone to Switzerland to acquaint better with the procedure.
0 comment(s) on Kerala: AIMS performs rare heart surgery