Kerala: Government plans to Retain General Hospital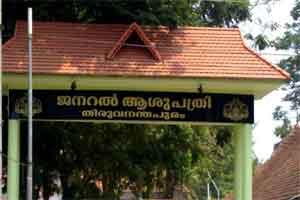 Thiruvananthapuram: The state government's idea of converting General Hospital into a medical college had not gone well with the doctors of the state. The doctors,under the banner of the Kerala Government Medical Officers' Association (KGMOA) protested against the conversion citing the reasons of disruption of primary and tertiary care to the poor and highlighting the fear that the general hospital if turned would deny treatment to the poor patients.
To provide a middle ground to this situation, the Kerala government has now come up with the several new proposals for setting up the college as well as retaining the decades-old General Hospital. In its proposal the kerala government is all for carving out 20 acres of land from the 27 acres of General Hospital for the Medical College and to retain the General Hospital in its current form. Apart from this, the government has also proposed to retain the Women and Children Hospital at Thycaud, which was also to be integrated as part of the new Medical College.
As per the new proposal plan, the new college will start functioning with the facilities General  Hospital and Thycaud Women and Children Hospital temporarily, with gynaecology and paediatrics functioning from Thycaud Women and Children Hospital and other department being catered to by General Hospital for the time being.As soon as, once the construction completed the new medical college will function separately, said
Indian Express
This proposal came out in the last discussion of the government with the attendance of Chief Minister Oommen Chandy, Health Minister V S Sivakumar, DHS/DME officials and KGMOA state leaders and doctors under KGMOA.It is reported that The KGMOA, will hold their next meeting on 14th feb 2016 to further discuss the proposed plan.