................................ Advertisement ................................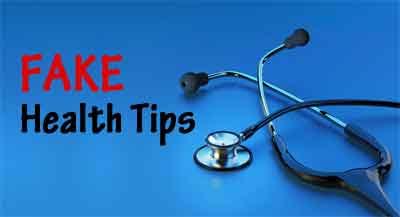 Kochi: With the rise in the use of social media, many consumers are now attracted to various  " Guidance Articles " related to health and the field of medicine that are seen circulating in one's feed. Many of them are seen propagating a use of a particular medicine, a particular pathy, and a particular way of lifestyle that could help prevent onset of many lifestyle diseases
While, a number of articles being informative, and propagating the theme " Prevention is better than cure", there are yet many articles that are layered with tips which are downright Fake, following which would only bring harm to the patients.
Explaining the issue,  IMA state president Dr Jayakrishnan A V told Indian Express "Some of the examples of misleading healthcare tips on social media are 'do not take medicine twice a day for diabetes; and hyper tension does not require treatment.' Every Malayali who uses social media would have definitely received at least one such message. Propagating such fake messages has become a public health concern in the State, where most people use modern messaging platforms regularly."
"In many cases, it has been found that the messages were created by persons who were not linked to the medical sector in any way. There were even incidents wherein patients blindly followed such tips, causing harm to their health," he added.
Taking cognizance of these fake health tips, the Kerala State Branch of the Indian Medical Association (IMA) has now lodged a complaint with the State Police authorities demanding action against those who propagate such messages. The office bearers have demanded action against those who propagate such misleading information.
................................ Advertisement ................................
"The public should understand that circulating false information about health and medication is harmful, given the fact that most people are under the impression that information available on the internet is authentic," said Dr Jayakrishnan.
The complaint was submitted with the police authorities by the office bearers in person .  "The DGP has assured prompt action, and forwarded the complaint to the Hi-tech Cell of the State Police," he added.
Meghna A Singhania is the founder and Editor-in-Chief at Medical Dialogues. An Economics graduate from Delhi University and a post graduate from London School of Economics and Political Science, her key research interest lies in health economics, and policy making in health and medical sector in the country.
She can be contacted at meghna@medicaldialogues.in.
Contact no. 011-43720751
................................ Advertisement ................................
1 comment(s) on Kerala: IMA lodges police complaint against Fake Health Tips on internet