................................ Advertisement ................................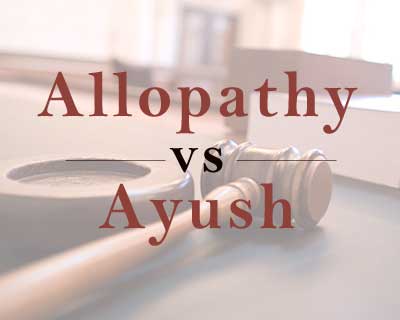 Can Ayurvedic practitioners practise allopathy?
THIRUVANANTHAPURAM: The controversial question was stirred upon again during a court battle between the practitioners of the two pathys in the state. This time, the question raised focused on whether ayurveda students can be allowed training in modern medicine like surgery and labour. As per the recent observations of the Kerala High court, such training cannot be denied to Ayurveda doctors.
During the hearing, allopathic practitioners argued, that such training and observations hardly benefitted people while being in clear violation of the spirit of the MCI Guidelines.
Ayurvedic practitioners on the other hand argued such training and observations were a part of their curriculum and was being imparted to students for the last 20 years, reports Indian Express.
"No complaint of Ayurveda doctors misusing their training has been received in the past two decades. The controversy arose just last year, after the Indian Medical Association (IMA) took it up with the government," Dr Rejith Anand, general secretary of Ayurveda Medical Association of India said. Anand stated the court itself observed that knowledge could not be monopolised by anyone, which emphasised the right of Ayurveda students to train in modern medicine.
................................ Advertisement ................................
"A blind objection of the IMA against other systems of medicine made them bring in this issue," he said, adding, "The future of Ayurveda students and even existence of Ayurveda colleges hangs in balance, unless the government takes a concrete decision on modern medicine training.
If the training is not imparted as per syllabus, the Central Council of Indigenous Medicine (CCIM) and even the state council is unlikely to give registration to students and affiliation to colleges."
 The argument was met with a strong rebuttal from the allopathy doctors, who stated that no 'observership' of any kind could be allowed in modern medicine hospitals, and if such a thing happens, allopathic practitioners would oppose it. Dr A V Jayakrishnan, IMA State president highlighted that this went clearly against MCI guidelines which state that  modern medicine students can only be trained in modern medicine institutions. Speaking to IE, he also questioned Ayurveda doctors' claim of observing the procedure for an exposure in basic aspects of modern medicine, saying,''Our system is different from theirs. Then what is it they want to observe? Surgery, labour and autopsy are not exhibitions. Moreover, what use it will be for an Ayurveda doctor who does not practise modern medicine?''
Meghna A Singhania is the founder and Editor-in-Chief at Medical Dialogues. An Economics graduate from Delhi University and a post graduate from London School of Economics and Political Science, her key research interest lies in health economics, and policy making in health and medical sector in the country.
She can be contacted at meghna@medicaldialogues.in.
Contact no. 011-43720751
................................ Advertisement ................................
9 comment(s) on Kerala: Legal battle over Allopathy training of Ayurveda practitioners