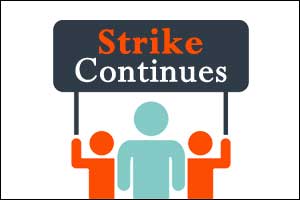 Kerela: The strike launched by the Government doctors attached to Kerala Government Medical Officers Association (KGMOA) has apparently entered its fourth consecutive day with over 4300 doctors participating in the agitation as per the organisation.
The strike has severely affected the hospitals all across the state and it has not gone well with the public. As per the media reports, there is widespread disgust among public on doctors' strike in the state. The public is questioning government's negligence to take action against the strike.
The association called for the agitation to protest against the government decision to extend the OP time in hospitals from 9 AM to 6 PM and the suspension of a doctor, who refused to attend to work following the increase in OP timings.
KGMOA state secretary, Jithesh V warned that if government launched any action against them, they would further intensify their agitation. He alleged that government was not doing enough to ensure prevention and control of infectious diseases.
Through a recent Facebook post, Health Minister K K Shylaja claimed that the agitation was to defeat the government's 'Ardram Mission'.
As part of the mission, the primary health centres are being converted to family health centres to provide comprehensive health facilities to people. Accordingly, instead of one doctor conducting OP from 9 am till 2 pm, two doctors would now conduct OP clinic in two shifts, from 9 am till 1:30 pm and 1:30 pm till 6 pm, while a third doctor attends to field duties.Mathrubhumi reported.
However, KGMOA informed the daily they are not protesting against the extension of OP time. The doctors noted that they are holding the strike over the government's failure to create more posts of doctors to assure timely care and treatment of each patient.
Meanwhile, the doctors have threatened mass resignation if any action is initiated against them.
Criticising the act, the health department said that a group of arrogant doctors are behind the strike. Hence, the government is demanding that doctors should call off the stir. It is expected that authorities will take immediate action to settle the protest.
The News Minute reports that the State Cabinet has decided not to hold talks with the medical fraternity. It also decided not to invoke the Essential Services Maintenance Act (ESMA) to deal with the medical professionals. However, the Health Minister, KK Shailaja, reportedly was asked to handle the stir using legal means.
Read Also: Kerela: Govt Doctors on Indefinite Strike against Colleague Suspension, OP Time Extension
0 comment(s) on Kerela: Doctors Strike Enters Fourth Day, More than 4000 doctors participate