KIMS Hospital Inaugurates 350 bed facility at Ongole in Andhra Pradesh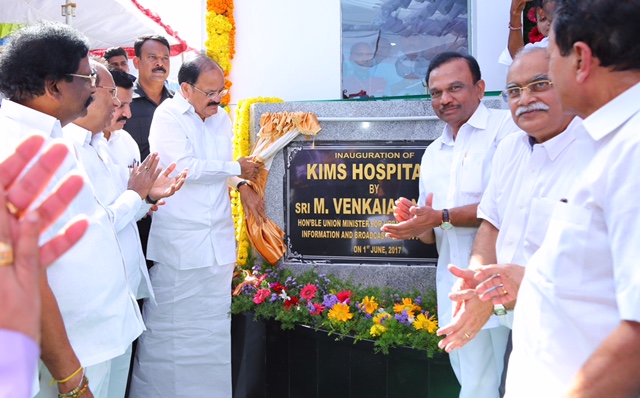 Hyderabad: KIMS hospitals, a leading healthcare provider in South India, has inaugurated 350 bed facility at Ongole in Prakasham district of Andhra Pradesh. Sri Venkaiah Naidu, Hon'ble Union minister for Urban Development and Information Broadcasting, Government of India inaugurated the facility. KIMS has invested approximately Rs. 65 crore in the facility which has over 30 departments including Cardiology, Nephrology, Neurology, Urology, General Surgery, Gastroenterology, Pulmonology, Ophthalmology, ENT, Emergency and Dental among others. With the addition of Ongole facility, the total capacity of KIMS hospitals in Telangana and Andhra Pradesh increases to 2150 beds.
Speaking on the occasion, Dr Bhaskar Rao, MD and CEO, KIMS hospitals said, "Ongole facility would be managed by some of the best medical professionals comprising leading doctors, skilled specialists, paramedical and nursing staff. Keeping with KIMS traditions, this hospital continues to keep its focus on its goal of personalized services, modern medical facilities and ensuring the services are within the reach of the common man."
"With KIMS Ongole, those in the Prakasham district can now avail of services on par with larger cities like Vijayawada, Vizag and Hyderabad. The KIMS network ensures the patients have access to the best doctors and specialists and affordable health-care is thus just a short distance away." He added.
KIMS Ongole provides State-of-the-art medical facilities including nine Operation Theatres, medical intensive care units(MICU), surgical intensive care unit (SICU), 24 hour MRI Scan, Cath lab among others. Sri Y. Sujana Chowdary, Hon'ble Union Minister, Dr. Kodela Siva Prasad Rao, Hon'ble Speaker of AP Assembly, Sri Sidda Raghava Rao, Hon'ble Minister, Govt of AP,  Sri Sriram Malyadri, MP, Sri D. Janardhana Rao, MLA, Sri Magunta Srinivasulu Reddy, MLC, Sri Karanam Balaram, MLC, Sri N. Sambasiva Rao, Director General of Police, AP, Mr. Bollineni Krishnaiah, Chairman, KIMS Hospitals, Mr. Bollineni Seenaiah, MD, BSCPL Infrastructure Ltd and Mr. T Giri Naidu, Executive Director, KIMS Hospitals have participated in the inauguration.
In addition to the existing facilities in Telangana and Andhra Pradesh, KIMS hospitals is spreading its footprint across the country by establishing hospitals in Guwahati Bhubaneshwar and Indore.