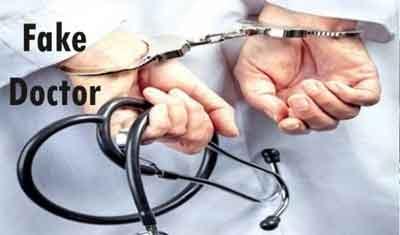 Kolkata: The Kolkata Police has arrested a fake doctor from the city's Panchasayar area, a senior officer said.
The sleuths arrested Mohammed Akbar Ali from Sahid Smriti Colony yesterday after the Panchasayar police station lodged a suo motu complaint against Ali, he said.
"Mohammed Akbar Ali was arrested from his chamber in Sahid Smriti Colony under the jurisdiction of Panchasayar police station," a senior officer of Kolkata Police said.
"He had been practising as MBBS doctor there without having a valid registration from the West Bengal Medical Council. We are looking into the matter and an investigation is on," he said.
Ali was booked under several sections such as punishment of criminal conspiracy, cheating by personation and forgery of valuable security, he said.
The West Bengal CID had formed a Special Investigating Team (SIT) in connection with the issue after the West Bengal Medical Council declared that over 500 fake doctors were operating in different state-run and private hospitals across the state.
The CID had arrested six fake doctors. They were attached to different state-run and well-known private hospitals in the state.
The state Medical Council had lodged complaints with the police, on the basis of which the arrests were made.
The Council had also appealed to people to inform it if they suspected anybody to be a fake doctor.
The Council had issued a directive to doctors to register themselves afresh, renew and update their credentials with them after the CID insisted.
The medical council had directed hospitals to provide it with names of registered doctors since that would help the council screen the list of doctors practising in the state.
1 comment(s) on Kolkata Police arrests another fake doctor