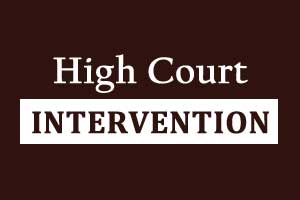 Kolkata: A 63-year-old woman, who was allegedly prevented by a private hospital in the city from leaving the premises for not clearing her bills, was discharged today following the intervention of the Calcutta High Court.
Hearing a habeas corpus (writ seeking production of a person before the court) petition moved by the husband of the woman, a division bench comprising justices Joymalyo Bagchi and R Bharadwaj directed the Bidhanagar Police to ensure the release of Bandana Bagchi and submit a compliance report.
Acting on the court's order, officials from the Bidhannagar Police Commissionerate in Salt Lake approached the hospital authorities and secured Bagchi's release.
Public prosecutor Saswata Mukherjee submitted a compliance report before the court later.
The patient's husband, Subir Bagchi, said that his wife was admitted to the Salt Lake hospital after she complained of chest pain on December 13.
He contended that even after paying Rs 1.10 lakh to the hospital as charges for her treatment, the hospital administration had on December 26 claimed that bills amounting to a few lakh of rupees were yet to be cleared and that she would be released once the dues were paid.
Alleging that the hospital did not attend to his wife since December 26, he said Bandana Bagchi had been prevented by the hospital from leaving the premises over the past one-and-a-half months.
The hospital's counsel said that Bagchi's family members had not taken her home despite the issuance of a release order.
Claiming that the hospital authorities did not misbehave with her, the lawyer said a cheque submitted by the family had bounced.
0 comment(s) on Kolkata: Salt Lake Hospital Discharges patient after High Court Intervention