Lady Hardinge Medical College will see redevelopment this year, Health Ministry on the job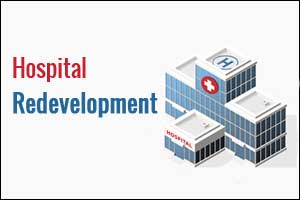 New Delhi: After agreeing to revamp the tarnished premises of Lady Hardinge Medical College (LHMC) and the hospitals associated with it, the Union Health Ministry has sent a revised cost of Rs 1,200 crore (approx) to the expenditure committee for the execution of the Comprehensive Redevelopment Plan (CRP).
The ministry has also ensured that the work on the project, which has remained stalled for three years, will resume by the end of this year,
This action comes after around 1500 hospital employees including resident doctors and students of LHMC observed a hunger strike on July 31, demanding the administration to restart the CRP of the hospital.
The strike surfaced after the Central Public Works Department (CPWD) inspection report implied that the infrastructure of the hospital is not safe. "Using the building in its present condition is equivalent to putting the lives of patients, hospital staff and others in danger," the report stated.
"We are about 1500 resident doctors, 100 faculty members and other paramedic staff whose lives are at major risk. The hospital gets submerged in water during rain. Walls are broken and the roof can fall down any time," Dr Vivek Chouksey, President of LHMC Resident Doctors' Association (RDA) stated.
However, a day after, the doctors called off their strike after they got a written assurance of resolving the issue of stalled CRP within a period of four months.
Read Also: Lady Hardinge Medical College: Doctors Outcry for Developing Dilapidated Hospital
The Union health minister J P Nadda called for all details of the project, confirms a recent report by TOI.. Following this, a team of bureaucrats visited LHMC recently and held a joint meeting with faculty members and resident doctors. The team assured the hospital staff that approvals were being expedited to ensure that the work resumed in three to four months, reports TOI.
The revised cost will also cover Sucheta Kriplani hospital, which is run by LMCH. This hospital runs from a tarnished 102-year-old building because of delay in construction of a new one. Not only this, iron girders supporting the arch-style building of this hospital, are rusted.
Comprehensive Redevelopment Plan (CRP)
As per the plan, which had been approved in 2007, the hospital was subjected to get a new Out- Patient Department (OPD) block, an In-Patient Department (IPD) with 350 beds, a trauma centre and a hostel for students.
The construction for the same was started in March 2012 at a cost of Rs 586 crore. By 2014, it should have been completed, however, citing the lack of funds, the private contractor left the project. Later, the government terminated the contract in 2015. This, unfortunately, left the hospital in dilapidation.